Being stuck inside is a great way to spend more time with the kids, however if you're having difficulty keeping them entertained, there are plenty of great ideas out there to keep little hands busy.
We've put together our favourite  list of activities below, from different exercises, to entertaining ways to learn, to fun crafts that can keep your kids occupied for hours. You and your kids will have so much fun, they'll never want to go back to school (but they'll have to eventually!).
Active kids now make tired kids later
There's no reason for your kids to miss out on their exercise, just because they aren't in school. Plus, giving them some exercise is guaranteed to wear them out.. All that pent-up energy is bound to be leaving them climbing the walls, so here are a few ideas to keep them active.

Olympic-style events on a budget
If you've got some masking tape lying around, cut off a couple of strips and lay them out on the ground at varying widths apart. Challenge your kids to try to jump to each of the pieces of masking tape, encouraging them to jump further and further each time. Make sure they're landing on a soft surface, and teach them to land on both of their feet to prevent them from losing balance and falling.
P.E. class of the future
Joe Wicks, also known as the Body Coach, offers free at-home workouts on his YouTube channel. He's recently begun providing live P.E. classes at 9 a.m. which provide half an hour of exercise aimed at kids. Tune in and join in alongside your children, or use it as half an hour to yourself safe in the knowledge that they're being entertained. Having the class at the same time each day is also a good way to maintain a routine.
Old fashioned hop scotch
An oldie, but a goodie, the hop scotch is a free and fun way to keep your kids exercising – all you need is some chalk. Find a safe space on the pavement and let your children draw out hopscotch boxes big enough to jump into. This is also a chance to let them express their creativity – let them draw the boxes in any shape, and encourage them to write or draw activities in the different boxes. A spin on the hopscotch is throwing a ball or stone into a box, jumping in all the boxes up to the one it lands in, and completing the activity written in the box. Some starter ideas are star jumps, jogging on the spot, or throwing the ball/stone into another box.
Trick them into studying at home
Just because they're not in school doesn't mean they have to stop learning. Complement any home-schooling lessons with some online courses. There are plenty of  ducational resources online (some of them are even used in schools!), that can trick your kids into thinking they're just watching a programme while teaching them something at the same time.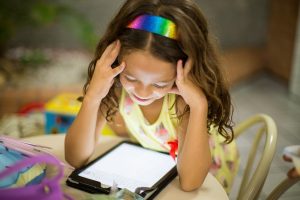 Teach them a foreign language
Busuu have made their online language classes free for children. Choose between Spanish or Chinese, there's a timetable for one lesson per weekday, split out between children aged 5-7 and 8-10. Make sure your children are writing down notes for what they learn, as it's easy to forget the new words and phrases overnight.
Take this as a sign…to learn sign language!
Sign language is a really useful life skill to learn, and children tend to be able to pick up new languages faster than adults. The Ettie Betty Baby Signs Facebook page is currently providing 10:30 a.m. live signing classes for young children. You can add to the class by asking your children to draw out the signs they learn, and keep the drawings to test them at the end of the week.
Stick to the curriculum
The BBC has an extensive online bank of videos, designed to be played in the classroom. You can choose between lessons for primary school or secondary school lessons, as well as which subject. Make sure your children are taking notes, and encourage them to explain what they learned to you to ensure they were paying attention. https://www.bbc.co.uk/teach/live-lessons
Let's get crafty!
Crafts can keep children entertained for hours if they're interesting enough. Crafting can often get messy, so we'd recommend laying a sheet under the area they're working on, for a quick clean up and to protect surfaces. Dress them in old clothes so that it won't matter if they get messy. If you've completed all the below activities, the Play.Hooray Instagram page has live crafting every weekday at 10 a.m.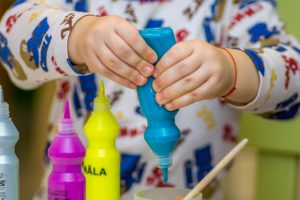 Send your toilet rolls to the moon
Toilet roll might be equivalent to gold dust right now, but hold on to the cardboard roll once the paper's been used up. You can turn these into binoculars, rockets, sharks – anything your child's imagination can stretch to. The best thing about this craft is that your child will have a new toy to play with after they've finished crafting.
Give your windows a colourful upgrade
Let your kids turn your house into a beautiful castle with stained glass windows. Well, almost. If you've got some coloured tissue paper/sweet wrappers, have your children stick it to the window (or use an old picture frame if you don't want to get the window mucky!). When the light shines through, it'll make all the colours shine brighter, and if there are any overlaps, it'll make the colours merge. This could be a fun way of showing your children which colours mix together to make other colours (e.g. blue and yellow making green, red and yellow making orange).
Easy DIY sensory bottle
Sensory bottles are a great, cheap alternative to a lava lamp. Your kids will love to watch the different colours change in the light. To make a sensory bottle, you'll need:
Recycled water bottle/cleaned empty jar
Water
Assortment of colourful beads/sequins
Simply fill the bottle with water and add your beads and sequins, seal the lid and shake. To extend the fun, hide a small waterproof toy/laminated image in the bottle, and have your children hunt for it amongst the sequins.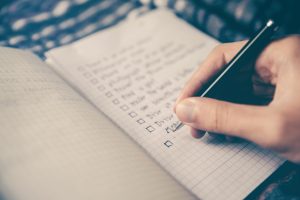 If managing your children's day as well as your own is getting on top of you, why not write a daily schedule for you both? Make your child's schedule interactive and fun, letting them tick off their activities with stickers. Try to make sure there's a clear routine in place – perhaps start and end the day with the same activity each day, or celebrate them completing their to-do list by holding a dance off! If you've come across any other ideas for keeping the kids entertained, we'd love to hear them – keep us posted on our Facebook page.