Barbie is celebrating a big birthday in 2019. She doesn't look it, but the blonde bombshell is turning 60! When Barbie debuted at the New York Toy Fair in 1959, buyers were skeptical because she was so unlike the other baby and toddler style dolls that were popular at the time. But, that was on purpose. Ruth Handler, who created Barbie, did so after she realised how limited her daughter's toy choices were compared to her son's. While her son had toys that allowed him to imagine himself as an astronaut, doctor, fireman and more, her daughter's toys only enabled her to act out life as a mother.
As a successful businesswoman herself, this gender divide didn't work for Handler. So, she set out to create a doll who could be anything she wanted. In turn, Handler's doll – Barbie – was designed to encourage the children of the '60s and beyond to dream big, too.
Did you know? Barbie is named after Ruth Handler's daughter, Barbara. Barbie's boyfriend, Ken, is named after Handler's son.
Over her 60-year lifespan, there have been thousands of iterations of Barbie, her family and her friends. These include hundreds of Barbie collectibles, who, being produced as limited editions, can make for some quite rare and valuable Barbie dolls! For example, the De Beer's 40th anniversary Barbie, whose outfit features 160 diamonds, recently sold for $85,000. The Stefano Canturi Barbie, meanwhile, wears a necklace featuring more than four carats of diamonds, sold for over $300,000 at auction to raise money for the Breast Cancer Research Foundation!
Collectible ranges are produced as very limited editions and are expensive to buy from the off. So, it's pretty unlikely that anyone but serious doll collectors have any of those rare and valuable Barbie dolls. However, there are plenty of "normal" Barbie dolls that are worth a pretty penny that you might have. Do you have any of these rare and valuable Barbies?
Original Barbie (1959)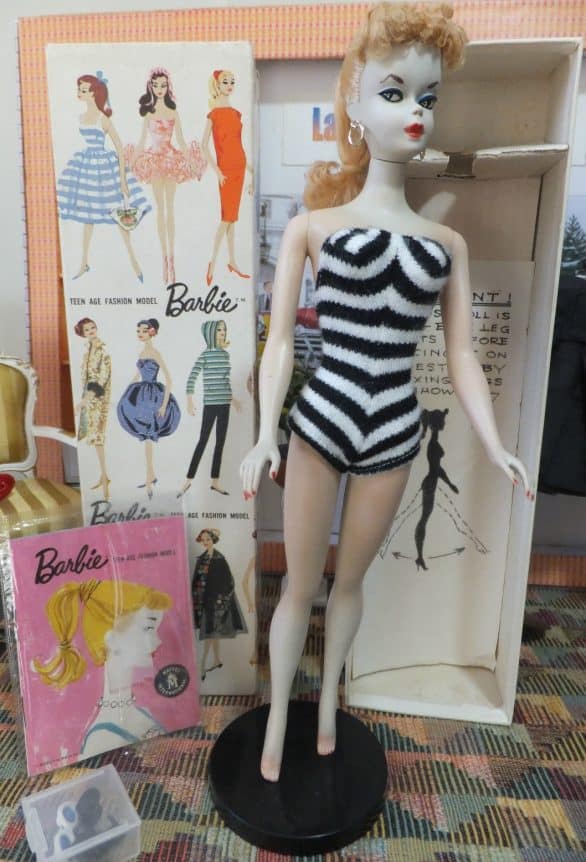 On March 9th, 1959, Barbie debuted at the New York Toy Fair. This first Barbie doll was available as a blonde or a brunette, with hair worn in her signature ponytail. She wears a black and white striped swimsuit with heeled black sandals and very '60s sunglasses! The original Barbie launched in two editions, the first of which is more rare and valuable. To see which edition yours is, take a look at Barbie's feet. If she has holes in the soles of her feet, then she's a first edition. If not, then you've got a second edition doll.
At 60 years old, there aren't that many of the original Barbie still kicking around, and even less in good condition. A mint condition Barbie still in her box sold for a whopping $27,000 (£20,000) in 2018. Dolls that aren't in mint condition but have been well-looked after are worth less. We spotted an original brunette Barbie that recently sold on eBay for more than £3,000, which is still a lot of money!
Did you know? Barbie was inspired by a German doll called Lilli. Lilli was created by Reinhard Beuthien as a comic strip for newspaper Bild. She was produced as a doll from 1955 until 1964, during which time Barbie creator Ruth Handler bought one while on a holiday in Europe, and the rest is history!
Barbie's first careers (1960s)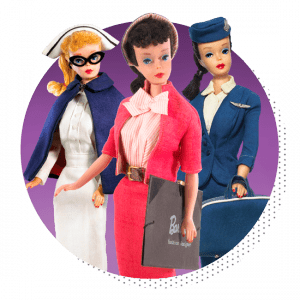 Just a year after her debut, Barbie released her first careers. In the early days, Barbie could be a Fashion Editor (1960), a Registered Nurse or Flight Attendant (1961), or an Executive Career Girl (1963). Nowadays, it seems incredibly difficult to find one of these Barbies complete with her original career outfit. It's possible that many people who own these dolls don't know what they've got, particularly if parts of the outfit have been lost over the years and it could now just be "vintage fashion"! There are plenty of vintage 1960s Barbies for sale without their clothes, and these routinely sell for £60-£70 each but can fetch up to £200. Barbie's 1961 nurse outfit, complete but without anyone to wear it, is listed for £90 on eBay. If you have an original 1961 doll to wear the outfit, though, then you could make up to £250 selling her.
Mattel are releasing reproductions of a number of Barbie's careers as part of the celebration of her 60th birthday. No doubt many of these will find their way onto eBay in due course, so do look out for these imposter vintage dolls if you're shopping around!
American Girl Barbie (1965 – 1966)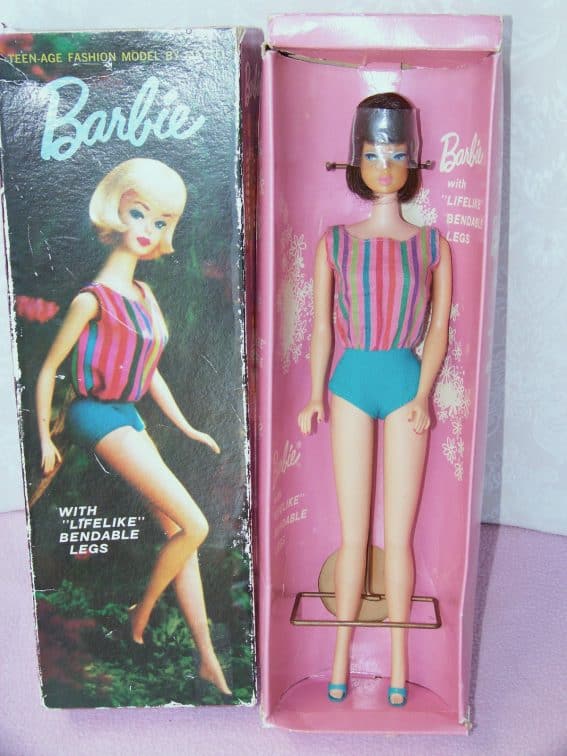 This Barbie's official name "Bendable Leg Barbie". But, collectors have long called her "American Girl" Barbie. American Girl Barbie was the first to come with bendable legs, and also sported fashionable bob-style hair.  She came in a number of different hair colours – three shades of blonde, a redhead option, and brunette – and with a number of makeup options. Later release versions of American Girl Barbie from 1966 had heavier makeup in brighter colours – these are often referred to as "high colour" when they're sold online. American Girl Barbie's original outfit was a one-piece swimsuit that had a multicolour striped top half and turquoise bottom, complimented by turquoise open toe heeled sandals.
There are a quite a few American Girl dolls for sale online these days, so it's fair to say they're not one of the most rare and valuable Barbies out there. But, you can still make a pretty penny if you have one, and particularly if she's in her original outfit. A mint condition, boxed American Girl Barbie with ash blonde hair sold for £634 on eBay in December 2018, while an unboxed one sold for £319 in January. Without her original outfit, you can still expect to sell a 1966 American Girl Barbie for around £300.
Colour Magic Barbie (1966)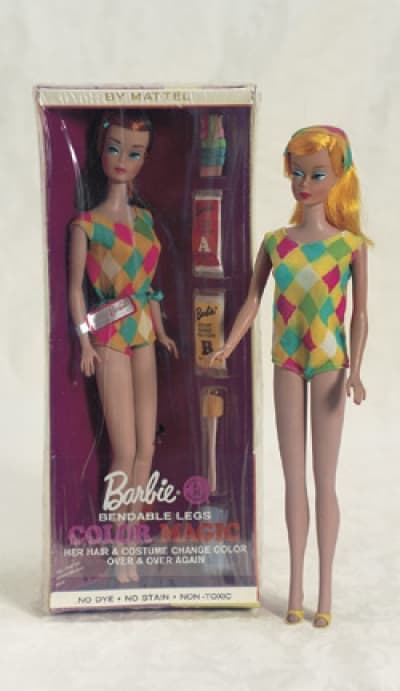 Colour Magic Barbie was the first Barbie doll where you could change her hair colour! This vintage doll came in two hair colours, Golden Blonde or Midnight. Then, through the magic of the colour changer that Barbie came with, you could change her hair colour. Golden Blonde transformed into Scarlet Flame, while Midnight became Ruby Red. The colour changing solution would also alter the colours of this doll's multicolour diamond swimsuit. Colour Magic Barbie also came with hair ribbons, Bobby pins, and a headband that matched her swimsuit.
Colour Magic Barbie is one of the hardest to find in mint condition. This makes her one of the most rare and expensive Barbies. "High colour" versions with more vivid makeup are even rarer, and more valuable. We've seen one golden blonde Colour Magic Barbie complete with swimsuit sell for almost £350 on eBay, while others without her outfit can go for about half the price. One sold in February 2019 for £179.99.
If you think you have one of these, be careful: in 2004 Mattel issued a reproduction of Colour Magic Barbie who looks very similar to the 1966 original. You can still sell one of these for around £50, though!
Hair Happenin's Barbie (1971)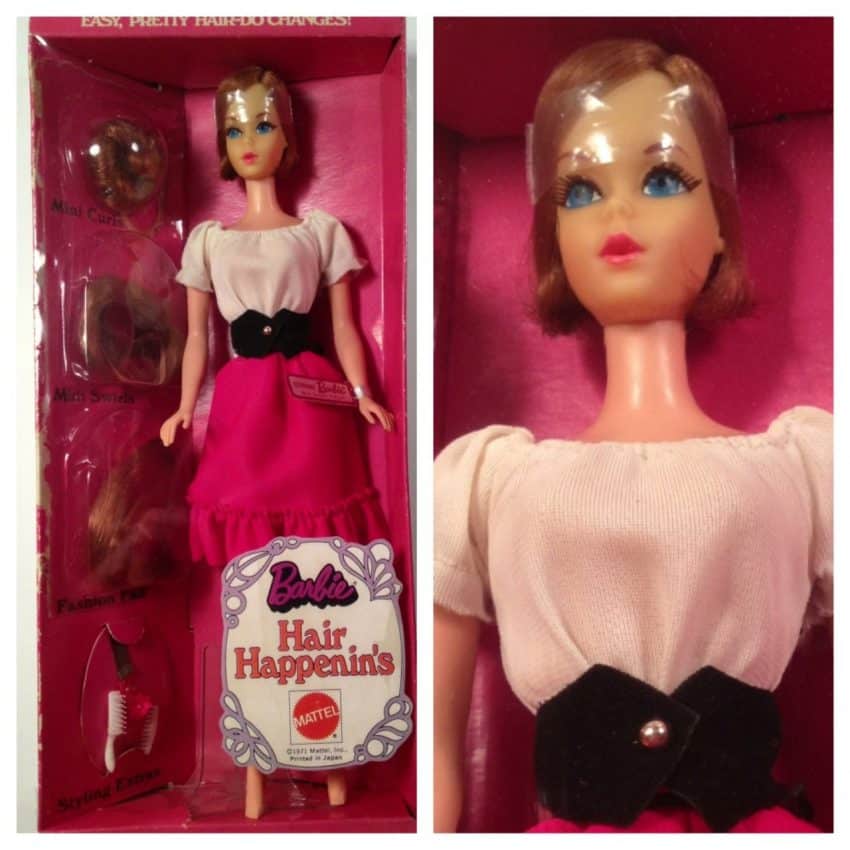 Hair Happenin's Barbie launched in 1971, and only came in a redhead variation. This doll sported a red chin-length bob, and came with a variety of hairpieces to change her look. These included a topknot with large curls, a pageboy haircut, and a long, straight-haired look. Hair Happenin's Barbie also came with various hair accessories like Bobby Pins, flowers, and a brush and comb. Her outfit, in honour of the fashion of the day, was a white peasant style blouse and pink ruffled skirt. This was accessorised with a black waist belt and black t-bar shoes.
Hair Happenin's Barbie is among the most rare and valuable Barbies from the Mod Era (1967 – 1972). She can command a premium price if you have one to sell. One such doll was sold, in her box and complete with all hair pieces and accessories, for just under £2000 at auction.
Totally Hair Barbie (1992)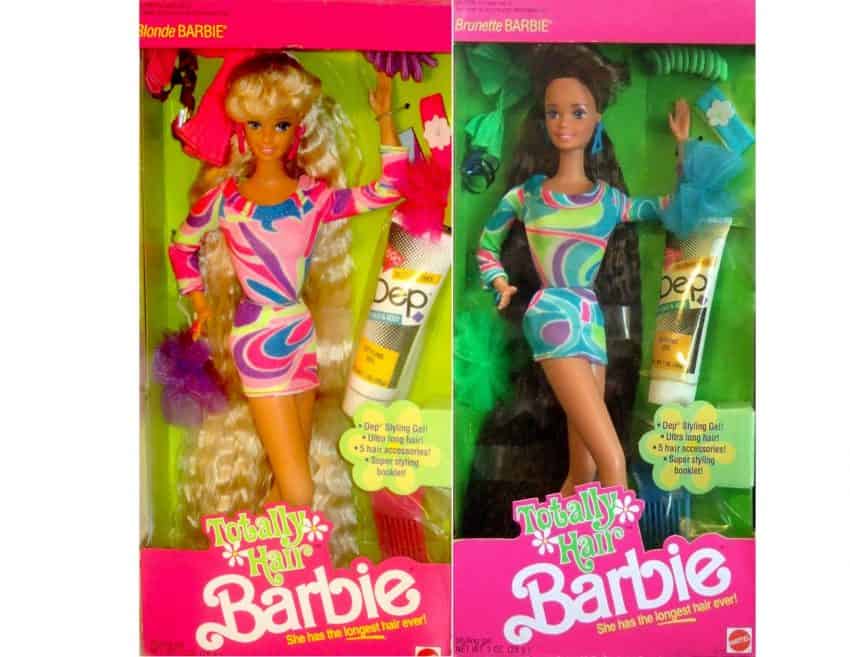 The second hair-focused Barbie that's become rather valuable is Totally Hair Barbie, who launched in 1992. Totally Hair Barbie was one of the best-selling Barbie dolls ever, and still holds the world record for the longest successful toy sale. Her ankle-length crimped hair could be gelled using the tube of Dep that came with the doll, styled, and even cut! This is why dolls in their original condition are so hard to come by today. While Totally Hair Barbie isn't as rare and valuable as some Barbie dolls, you can still expect to make upwards of £75 if you have one to sell that still has her long hair.
To celebrate the success of Totally Hair Barbie, for her 25th anniversary in 2017 Mattel released a reproduction of her. Something to look out for if you think you've found a vintage version in suspiciously good condition!
Earring Magic Ken (1992)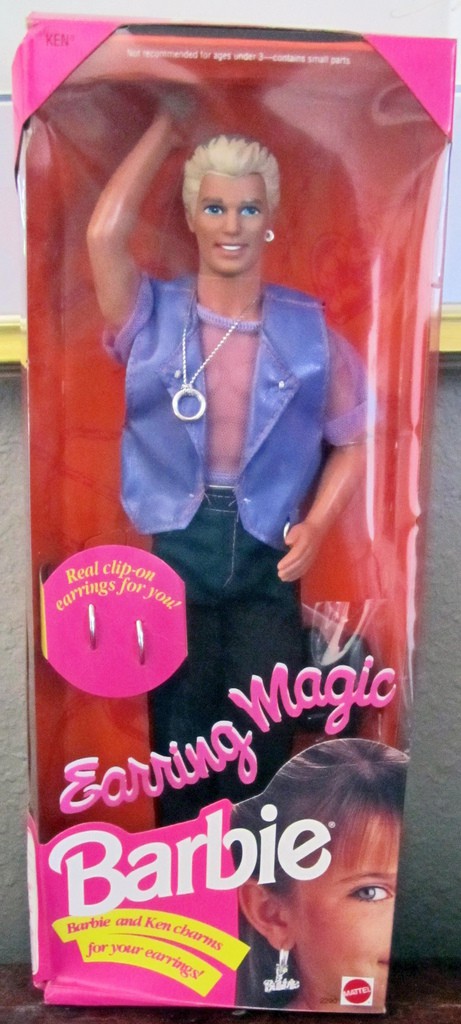 Earring Magic Ken – the companion to Earring Magic Barbie – caused quite a sensation when he launched in 1992. This Ken featured a new look in response to survey results that indicated Barbie's audience wanted Ken to look "cooler". Ken's new look embodied early '90s fashion, and included blonde highlights in his hair, a purple mesh shirt and "leather" vest, a necklace with a circular charm and, as his name suggests, an earring in his left ear. However, this updated wardrobe was controversial. A public expose on the secret meaning of the charm on Ken's necklace was published by LGBT commentator Dan Savage in the Seattle newspaper The Stranger, and Mattel quickly discontinued Earring Magic Ken and recalled remaining stock from stores.
This all means that Earring Magic Ken is quite scarce. A doll in mint condition, still in his box, can sell for between £40 and £60 on eBay.
Did you know? Barbie's full name is Barbara Millicent Roberts, and she doesn't share a surname with Ken. Ken's full name is Kenneth Sean Carson!
Do you think you have a rare and valuable vintage Barbie?
Do you think you might have a vintage Barbie who might be worth a few quid? The first thing to do is to look around online to find out what model she is. Fashion Doll Guide is a great place to start, and also tells you if particular models are rare or valuable. Then, you can take to eBay and other sites to see what she's selling for!
Originally posted on 7th March 2019 @ 5:01 pm