Weddings are expensive events. Whether you've got a big budget or a modest total, there are plenty of places you can save money on your wedding. Items like your big-day flowers, table decorations and entertainment will take a sizable chunk out of that budget, so how can you ensure not to go overboard? We look at DIY ideas to save money without scrimping on the aesthetic.
Wedding flowers
For weddings with a rustic vibe, what could be better than a bunch of wildflowers from your own garden? To grow your own, simply fill a large planter with soil, sprinkle on a wildflower seed mix and roughly press into the soil. Water the seeds and ensure they stay nourished depending on the weather. They usually take around 2-3 weeks to grow. Try and pick your flowers as close to the day as possible so that they stay fresh and bright.
For the bride, pick a large bunch and tie with a simple ribbon or hessian bow. Make smaller bunches for the bridesmaids to match. If you grow enough flowers, you could potentially use them for the whole wedding. That would mean free table displays, bouquets and buttonholes!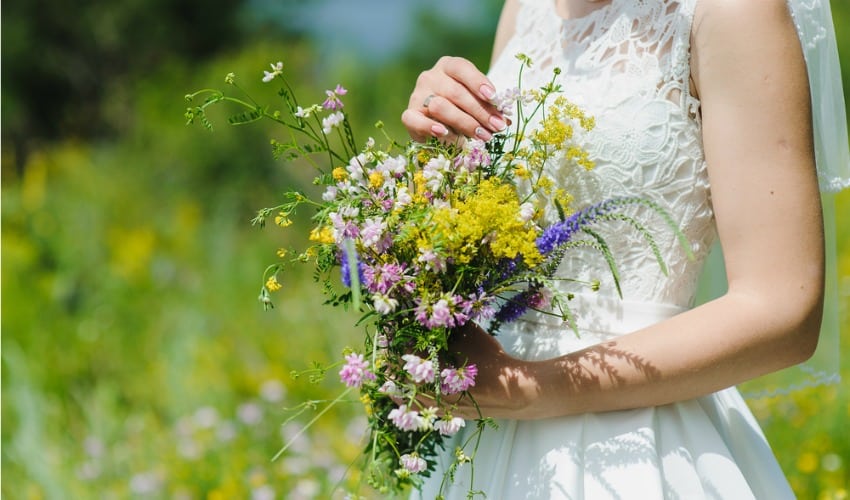 Alternatively, use supermarket flowers to make your own perfect bouquet. One savvy bride created hers for just £12.30 using small bunches from Lidl secured together with twine! Take inspiration from YouTube tutorials to help you get the right balance of flowers and play around with colours. It's a good idea to do a couple of practice runs beforehand so you can experiment until you get it just right.
Related: 8 Cost-Cutting Garden Hacks For The Budget Savvy
Photo booth
One of the most fun ways to get photos of your evening guests is by having a photo booth. Professional ones usually cost over £250 to hire! But there's nothing stopping you from making your own with a camera and a set of props.
Hang a large frame with space behind it for your guests to stand or create a fun backdrop. For Polaroid style pictures, make a large white frame out of card. You could even personalise this with your names, or something like 'The Jones Wedding'. If you want something more ornate, check local charity shops or car boot sales for second-hand frames. Get a bucket full of props such as glasses, wigs and hats for your guests to dress up in. Then, all you need to do is set up a camera on a tripod and let your guests have fun!

Stationary
One of the first things you'll do once you've set a date and a venue is invite all of your nearest and dearest to celebrate with you. But, save the date cards and invitations, not to mention postage, can rack up a large bill. Creating your own DIY wedding invitations can be a valuable money-saver ahead of the big day. Design the layout with Canva (it's free!), or use one of their pre-designed templates if you need some inspiration. Add finishing touches like ribbon, lace, or even some rustic twine, and hey presto, you'll have stunning invitations the professionals will be envious of, for a fraction of the price.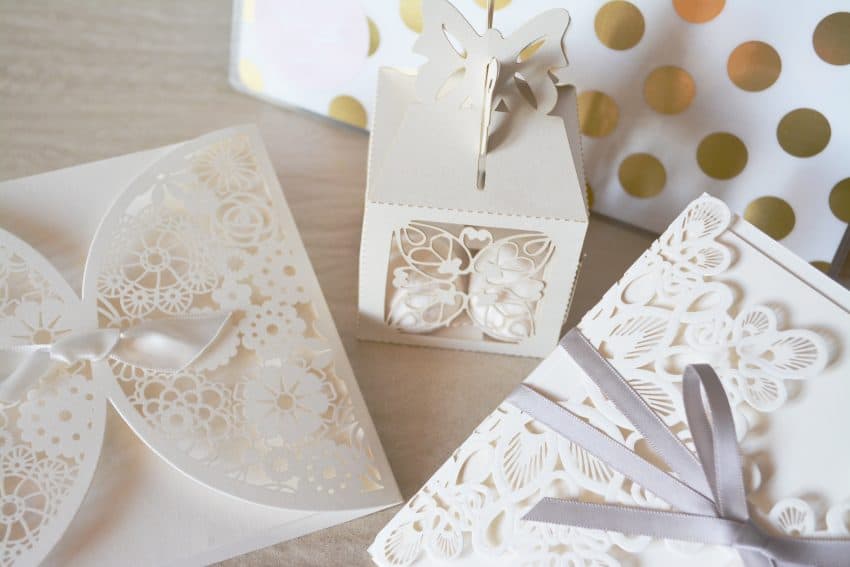 Seating plan
You can enhance the aesthetic of your wedding with your seating plan. And they can be so simple to make!
For a sleek, contemporary wedding, all you'll need is a mirror and some card. Print out your table guest lists on to separate pieces of card in a classy font and attach them in rows on the mirror. Place the mirror on an easel type stand so your guests can easily find their table. Add some gems or other embellishments for a sparkly finishing touch.
If your wedding has a vintage theme, a framed seating plan will look beautiful. Take an old crate or large frame as the backing for the seating plan. Encase your table lists inside smaller frames of different sizes, shapes and colours and attach these on to the back. You can pick these up from most charity shops. Fill in the gaps with artificial flowers and foliage or leave the wood bare for a more rustic vibe. Stunning!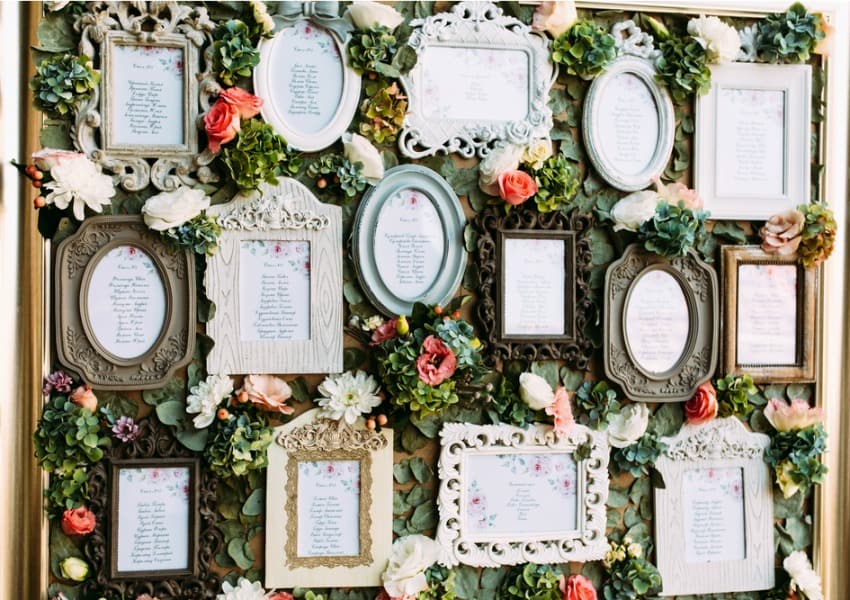 Centrepieces
Table decorations add up and end up becoming very pricey. Making your own can be time-consuming if you have lots of tables, but the savings are worth it.
It's important to be able to see the guests all the way around the table, so avoid something too high. A bird cage or lantern filled with flowers will look effortless and stylish. Place an artificial LED candle in the centre to add a glow when the lights go down. If you want to make the centrepieces in advance, use artificial flowers. These can be bought inexpensively from eBay along with bird cages and lanterns. You might find unique vintage ones in antique shops or flea markets too.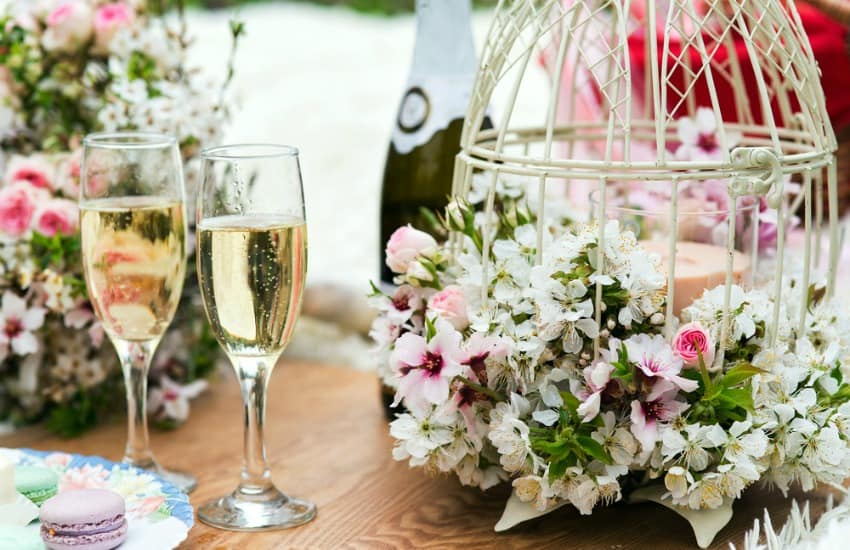 We hope these DIY wedding tips help you save for your big day!