It might not sound appetising, but a Belgian Miserable cake is an airy cake sandwiched with rich, sweet buttercream. This recipe is a more basic one than some of the more advanced takes on this piece of patisserie, but it can easily be adapted once you're more comfortable with the steps. You could add more layers, elaborate decoration, subtle flavours or even add fruit to your buttercream.
Bit of history on the name: according to a Belgian story from the 1850s, the patissier who created this cake made it in honour of Victor Hugo, of whom he was a great fan, and who had published his famous work Les Misérables.
What are you waiting for? Bake!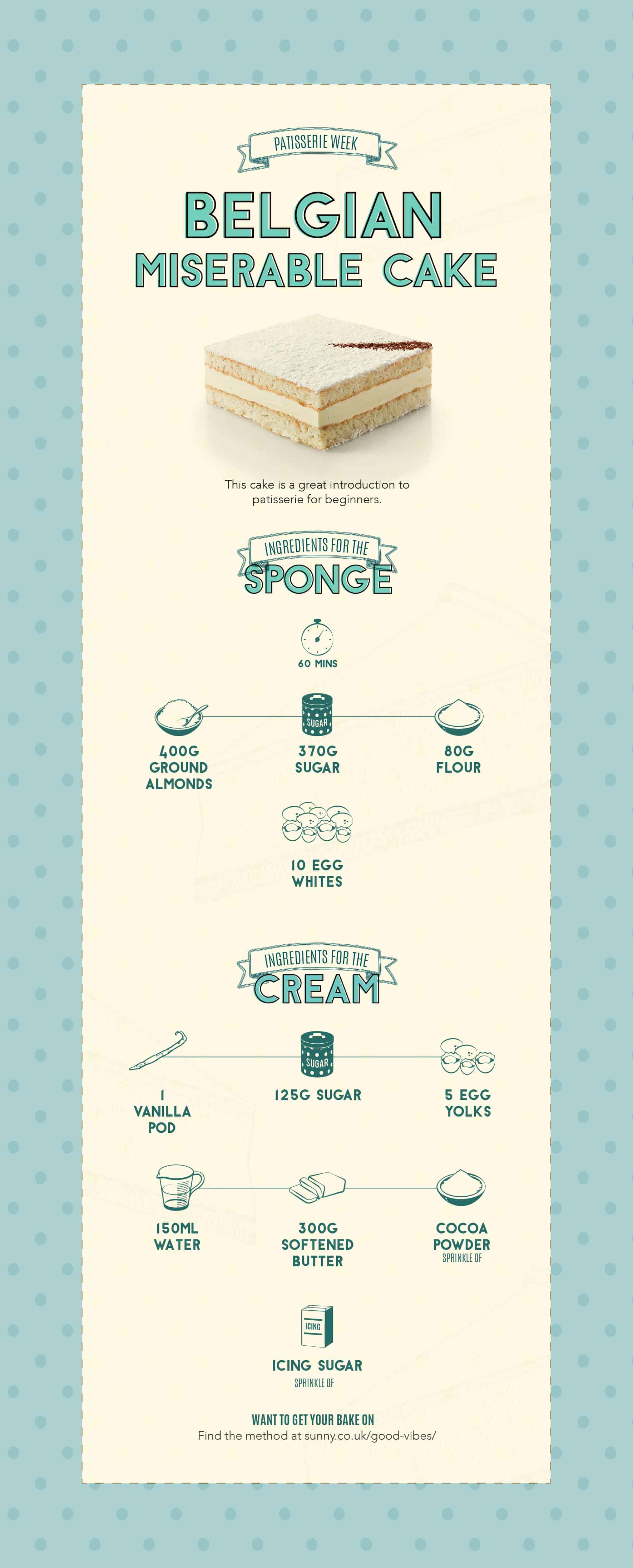 Belgian Miserable Cake Method:
First, preheat your oven to 180 degrees Celsius.
Then lightly whisk your egg whites with 70g of sugar until stiff.
Mix the remaining 300g of sugar with the ground almonds and sieve with the flour. Quickly fold this into the eggs, taking care to do so gently.
Spread the mixture inside a lined baking tray until the mix is around 2cm deep in the tin and bake for 30 minutes.
Allow to cool before turning out onto a tea towel.
To make your buttercream cut your vanilla pod lengthwise, adding to the water and sugar before bringing to the boil and then removing the vanilla pod once a syrup has formed.
Whisk your egg yolks before adding the sugar syrup and whisk again until the mixture has cooled.
Make sure your butter is soft and around the same temperature as your egg mixture before adding it. This will make sure your buttercream doesn't split. Continue to mix until you have a smooth texture and then place the cream into an icing bag.
Now lay your sponge flat, trim the edges and slice it in half horizontally, so you have two thin sheets of sponge. Pipe a layer of buttercream onto one half before pressing the other half gently on top.
Use a pallet knife to smooth out any cream that has come from the edges.
Dust the top with icing sugar and cocoa powder.