Budget-friendly, easy meals for one person
Looking for some tasty and budget-friendly dishes to make at home for yourself? We've curated a round-up of some simple, one-person meals on a budget that you can try at home from bespoke pizza to egg fried rice worthy of your usual takeaway order. 
Easy meals for one person 
Whether you fancy something filling for lunch or are looking for easy to make dishes that will satisfy your hunger when you return home from work, these recipes offer a little something for everyone. 
Swap out any meat for a vegetarian or vegan substitute if you'd prefer and add or remove ingredients as you see fit. With these easy meals for one person, inspired by dishes from around the world, you won't be stuck for choice and many feature the same ingredients which means there shouldn't be any waste! 
1. Naan bread pizza 
No need to worry about throwing dough into the air with this custom made pizza. Simply grab a plain naan bread, add your toppings and pop it in the oven for 10 minutes. Easy! Naan is the perfect pizza base, it's thick and chewy and easy to find in the supermarket.  
You will need: 
Naan bread – mini or regular, depends on how hungry you are! 

Mozzarella 

Cherry tomatoes 

Passata or tomato puree 

Toppings of your choice (basil, pepperoni, ham, pineapple etc.) 
Method: 
Grab your naan bread and slather on some passata or tomato puree as a base. 

Add your cheese and a few cherry tomatoes, chopped in half. 

Finish with your chosen toppings.

Pop it in the oven until the cheese is melted and delicious. 
2. Burrito bowl 
Fancy Mexican food but don't want to buy enough to feed a family of four? Then try out a burrito bowl. These tasty dishes can feature everything you fancy and there's no need to buy a pack of tortillas that could go out of date before you get through them all. Plus, you can throw in any leftover meat or meat substitute you may have, such as mince, chicken or tofu. 
You will need: 
Mexican rice – You can buy microwavable bags of this, use half for this meal and save the rest for a chilli later in the week! 

Salsa 

Avocado 

Cherry tomatoes 

Shredded lettuce 

Pepper 

Red onion 

Leftover meat of your choice 

Sour cream 

Cheese 
Method: 
Microwave your rice and add this to your bowl. 

Throw in your chopped up ingredients (add or remove what we've featured in the list above) then mix it all together. 

Throw on a dollop of sour cream and salsa, sprinkle on your cheese and enjoy!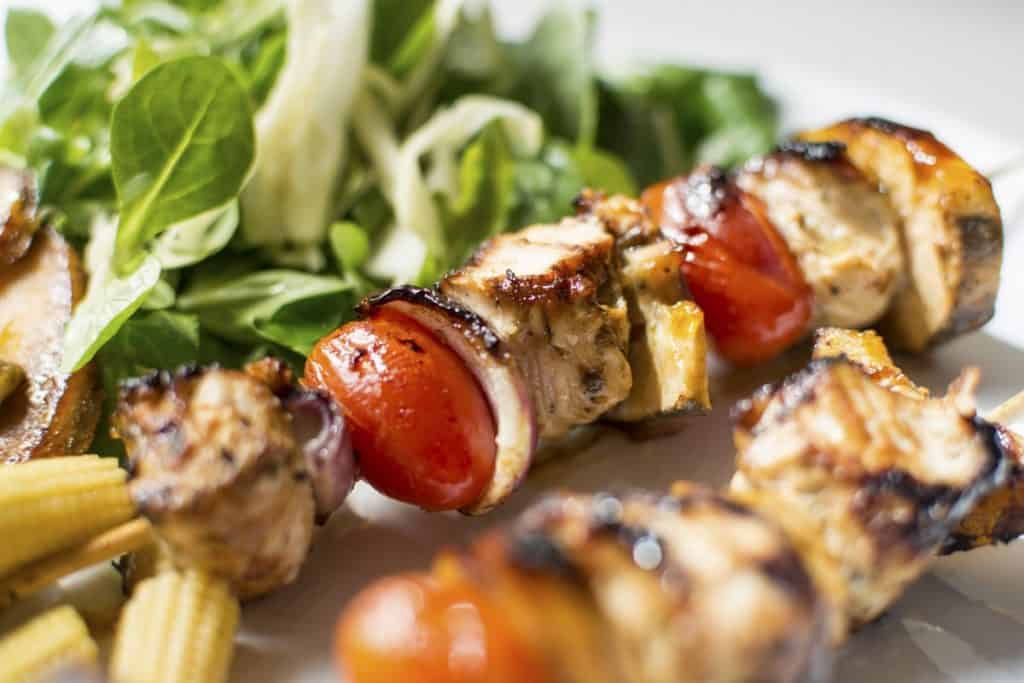 3. Chicken skewers
These tasty treats don't have to be reserved for the BBQ, they're easy to make and are budget-friendly if you're only cooking for yourself. Serve with a side salad and enjoy! 
You will need: 
Metal or wooden skewers

Chicken or a meat-free substitute – chopped 

Pepper – chopped 

Garlic cloves – leave whole 

Mushrooms – leave whole 

Spices – we love adding garlic powder, chilli powder and paprika to our chicken 
Method: 
Chop your ingredients.

Push them onto your skewers – we recommend at least two skewers to make a filling dinner. 

Pop them in the oven and cook. 

Serve alongside your salad and enjoy! 
4. Stuffed sweet potato 
Take that jacket potato to the next level with a delicious and filling sweet potato stuffed with some tasty extras. What you add is completely up to you but we've featured some suggestions below. 
You will need: 
One large sweet potato 

Feta cheese (or a dairy-free alternative) 

Spinach 

Sweetcorn 

Black beans 

Sun-dried tomatoes 

Avocado 

Balsamic glaze 
Method: 
Cook your sweet potato, you can either bake it in the oven for a crispy skin or pop it in the microwave for 15 minutes for speed. 

Leave it to cool for a few minutes before slicing it open and then stuffing with your choice of fillings. 
5. Mac and cheese in a mug 
This dinner is so easy you'll be grabbing a mug out of the cupboard every night. Mac and cheese is one of those tasty comfort dishes we all enjoy on a cold night and when you can make it in minutes in the microwave you're winning! 
You will need: 
A large mug 

Microwave

Macaroni pasta 

Shredded cheese 

200ml milk 

Plain flour ½ tbsp 
Method: 
Add your shredded cheese, milk and your flour to the mug and whisk. 

Throw in a handful of macaroni pasta and stir. 

Pop your mug in the microwave and cook it for one minute. Stir, then continue cooking for a minute at a time until the pasta has softened. You may need to add more milk as you go along. 

Serve up piping hot alongside some garlic bread.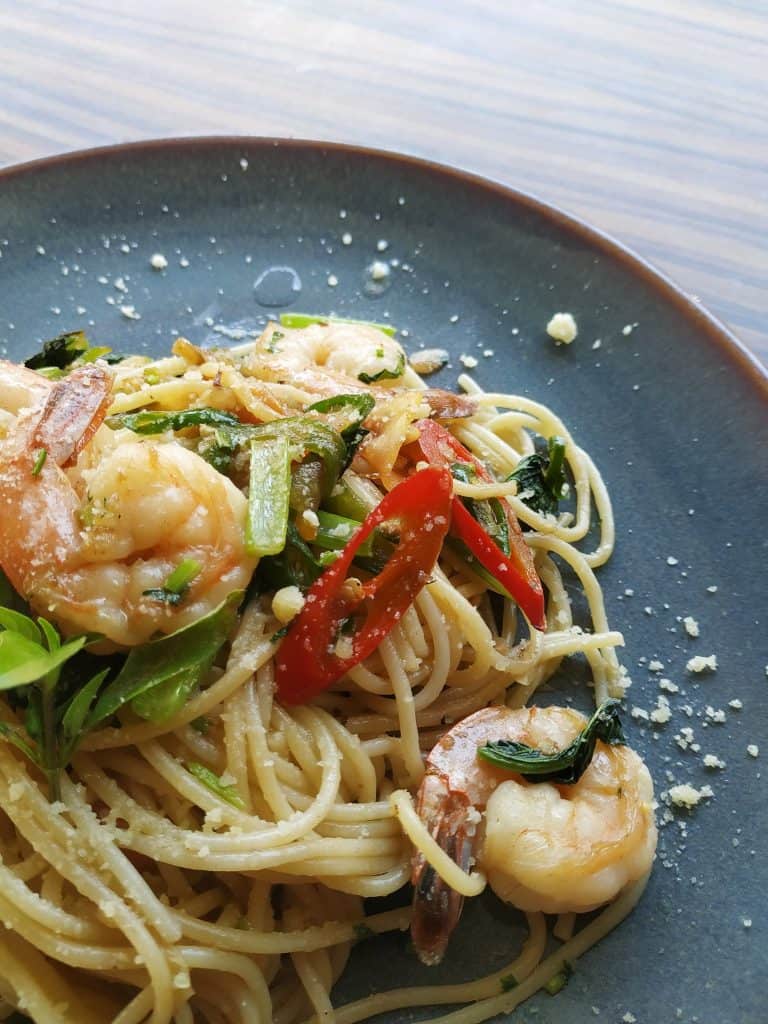 6. Garlic prawn spaghetti 
This dish is super easy and super tasty and you can easily trim down the ingredients to make enough for just one person – or cook more to make leftovers for your lunch the next day! 
You will need: 
Spaghetti 

King prawns 

Garlic powder 

Olive oil 

Lemon 
Method: 
Cook your prawns and add garlic powder, salt, a little pepper and olive oil. 

Boil your spaghetti. 

Throw it all together and squeeze the juice of half a lemon onto the dish to finish. Add some fresh chillies for a little extra spice. 
7. Fake calzones
We love a calzone, this tasty folded pizza is a recipe for success but if you're cooking for one, it's unlikely you want to spend time making dough. Instead, swap your dough for a white pitta bread, stuff with your favourite pizza toppings and bake for the tastiest fake calzone you'll ever eat. 
You will need: 
White pitta bread 

Mozzarella or cheddar cheese 

Passata or tomato puree 

Pizza toppings of your choice (pepperoni, olives, mushrooms, pineapple etc.) 
Method: 
Chop your pitta bread in half, widthways. 

Spoon your tomato passata or puree into the opening then spread evenly. 

Throw in your cheese and toppings. 

Bake in the oven for around 10 minutes until the cheese is melted and delicious.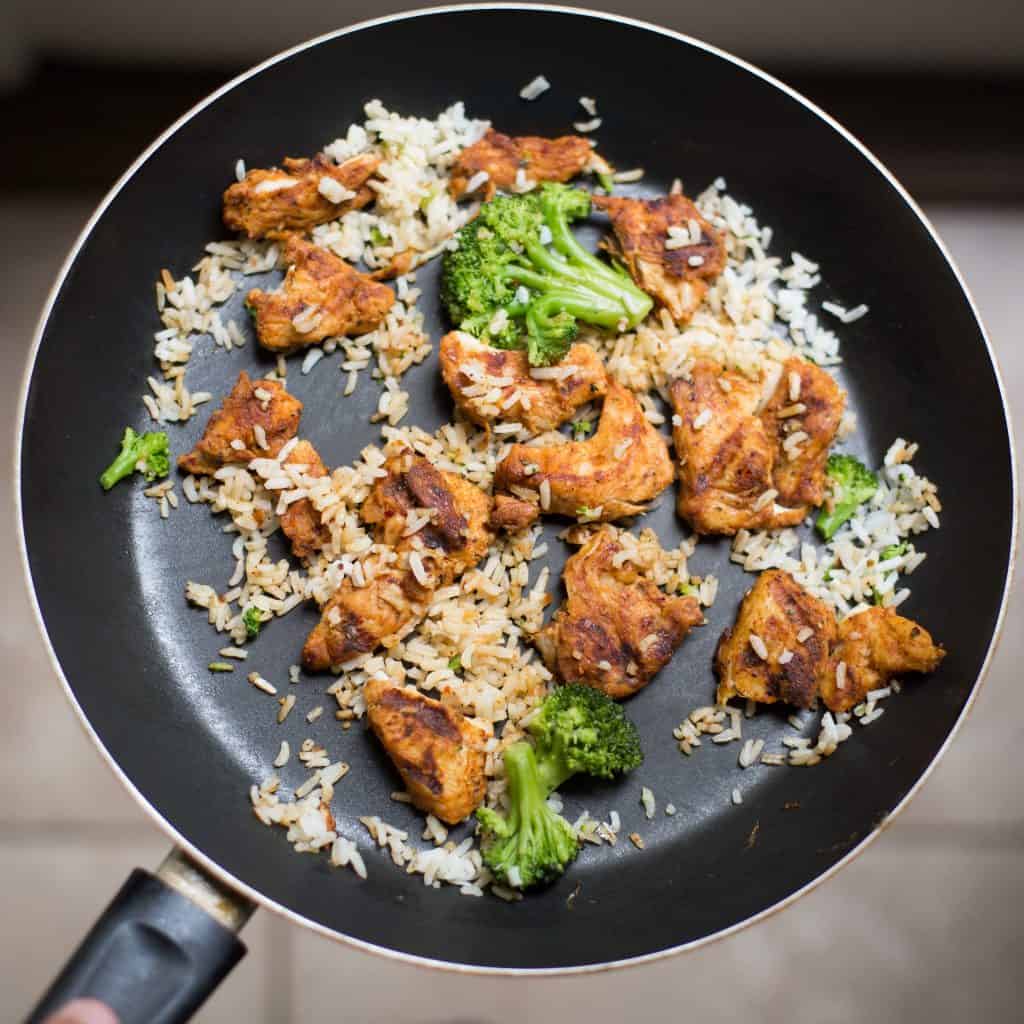 8. Quick chicken stir fry 
Stir fry is so tasty and so easy to make at home. Swap the expensive and sodium-filled Chinese takeaway and whip out the wok (or frying pan) to try this dish for yourself. Plus, the ingredients you pick up can be used throughout the week for future meals. 
You will need: 
Chicken breast (or a chicken substitute)

Rice 

Pepper 

Broccoli  

Soy sauce 

Chinese five-spice powder
Method: 
Fry your chicken and boil your rice in a separate pan. 

Once the chicken is browned add your pepper, broccoli and fry these for a few minutes. 

Splash in a few glugs of soy sauce then add your Chinese five-spice powder. Continue to fry for a couple more minutes. 

Serve up alongside your rice and enjoy. 
9. Smoked sausage and potato hash 
This dinner is so easy to whip up and you may have leftover sausages but these are great for future lunches and breakfasts during the week. All you need is two pans or skillets and about 30 minutes to whip up this tasty dish. 
You will need:
One potato – peeled and chopped into cubes

Two smoked sausages or vegetarian sausages sliced

Two spring onions – sliced 

Garlic clove – chopped 

Red pepper – sliced 

Paprika 

Olive oil 
Method: 
Chop your potato into small cubes then add this to your pan, fry for around 10 minutes until they begin to soften up. Leave them to fry on a low heat. 

Slice your sausages up and add them to your other pan, fry for a few minutes until they are brown. Put to one side. 

Chop your pepper, garlic cloves and onions then add these to the pan with your potatoes, fry until they are soft. Sprinkle on your paprika and mix. 

Add your sausage and mix everything together. Serve up and tuck in! 
10. Egg fried rice 
Don't dial the number for your local takeaway, make your own egg fried rice dish at home with this easy to follow recipe. Great for tucking into on a Friday night with a cold drink and good movie on the telly. 
You will need: 
White rice – boiled 

Two eggs 

Peas – boiled 

Carrots – sliced

Spring onion – chopped 

Garlic clove 

Soy sauce 
Method:
Boil your rice then set this to the side. 

Take a frying pan and throw in your peas, carrots, spring onion and garlic, fry for a few minutes until soft. 

Grab your eggs and crack these directly into the pan, then stir. They should look a little like scrambled eggs and it's important you mix your vegetables into them. 

Add a few splashes of your soy sauce. 

Throw in your cooked rice and fry for a couple more minutes. 

Serve! 
You can add leftover chicken or chicken substitute such as tofu to this dish to make it more filling but it's a tasty, light dish that's easy to make. 
Of course, if you do need to cook for more people these recipes can be easily adapted and the ingredients increased to feed those extra hungry mouths. Let us know which ones you try out for yourself and any recommendations you have to make them even tastier!