As summer rolls around again, wedding season is soon to be upon us. In fact, it may well have already started for many people out there. There's no doubt about it that getting married is an expensive business, and not just for the happy couple. While the average cost of a wedding is now upwards of £17,000 (yikes!), the average guest will also spend about £300 on the celebrations. Stag and hen parties, new clothes, and travel and accommodation all add up, and can be a real strain on your budget even before you've bought the newlyweds a gift. So, how do you manage this? Should you buy a gift at all, and if you do, how much should you spend?
Don't spend more than you can afford
The first, and possibly only rule of thumb you need when it comes to buying a wedding gift is not to spend more than you can afford. The money you spend on a wedding gift should feel comfortable for you, and should never mean you can't afford to pay for essentials, or would be up the creek if an unexpected bill popped up. Of course, you don't want to look stingy, and it's natural to want to show your gratitude for being included in such a special day. But, giving a wedding gift, while customary, isn't mandatory. Remember, the couple have invited you because they want the pleasure of your company and to celebrate with you, not because they expect you to buy them a lavish gift.
How much to spend if…
Wedding planning site, Hitched, suggest in their guide that £50-£75 is a good ballpark figure for a wedding gift. This is the average price per head that it'll be costing the newlywed couple to have you, so to repay their generosity equally is fair. But, whether you use this as your guide will depend on a number of factors, as well as your personal budget. How much of the day are you invited to? Are you already spending money just to be there? Do you and your +1 both know the happy couple, and how well do you know them? Have the newlyweds made any requests? We've covered most wedding guest scenarios below to help you work out what you should spend.
… You're part of the wedding party
If you're a groomsman or bridesmaid, then it's likely you're pretty close to at least one half of the newlyweds and will want to give a gift that reflects this. When setting your budget, think about how much you've already spent on the wedding and wedding-related activities, and how much the couple have spent on you. Balance the two against each other, and budget your gift so that it approximately breaks even. For example, if you've spent £300 on going on the stag or hen do, but the couple have paid for your outfit for the day and wedding accommodation costing £400 in total, then your wedding gift to them should cost about £100. If you've spent more on attending than they have on having you there but still want to give a gift, then a small, token gift will go down nicely.
… The bride or groom are immediate family
When it comes to family weddings, you'll no doubt want to give them a generous gift to remember the day. But, remember that close family are likely to be familiar with your financial situation. They wouldn't want you to overstretch yourself on their account, even for a special occasion like this. Stick to what you can afford, but at the upper end of your budget, and aim for a meaningful gift rather than one that will bust your budget.
… The couple are close friends of yours
Close friends should come high up in the generosity stakes. But, no good friend would want you to spend money you can't afford on a gift for them. And, like family, they likely have a good idea of your financial situation, so will be able to tell if you've spent money you can't really afford. Be generous, but stick to an affordable budget.
… The couple are distant friends, relatives or work friends
If the couple are work friends, or the kind of friends or relatives you only see a couple of times a year – probably at other people's weddings – then it's absolutely acceptable for your gift to be a token. All you need to give them is a gesture that represents your thanks for including them in your day, and well wishes for the future. A nice bottle of bubbly or a different gift of similar value will be much appreciated by the happy couple.
… The newlyweds have registered for gifts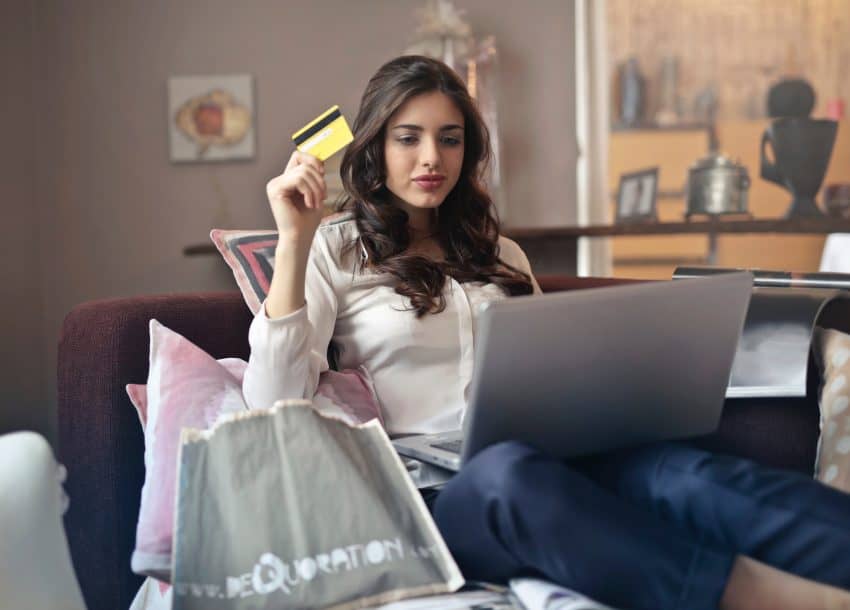 This is an easy one! If the newlyweds have registered for gifts, then they'll no doubt have selected items to suit a range of budgets. So, you can just pick one that works for you! Everything on the list will be something the couple want or need. So, there's nothing stingy about choosing one of the lower-ticket items. If, in the unlikely event that everything the happy couple have chosen is out of your budget, then you could consider clubbing together with other friends or family who are attending to buy one of the more expensive items between you. They will doubtless thank you for saving them some money, too.
… You've already bought them an engagement gift
If you bought the couple a gift when they first announced their engagement, then bear this in mind when budgeting for their wedding gift. Typically, if you have an overall gift budget for the couple, 25% should go on the engagement and 75% on the wedding gift. However, if you've already splashed the cash on their engagement gift, even if it was a while ago, what do you do? It's unlikely you want to spend three times as much again on their wedding present!
In this situation, invert your spend and consider the engagement gift you bought as accounting for 75% of your gift budget, and buy a wedding gift that costs 25%. For example, if you've already spent £60 on an engagement present, spend £20 on a wedding gift. The couple will remember that you bought them an engagement gift, and will think it's generous of you to buy them a wedding gift as well.
… The couple have said they don't need gifts
Traditionally, wedding gifts are designed to help the newlywed couple furnish their marital home. These days, though, more and more couples live together before they get married. So, they don't necessarily need to follow this gifting tradition. In this situation, many couples say that they don't need or want gifts at their wedding, and your company is gift enough. But, if you do still want to get them something, a small token costing about half the budget you'd have spent otherwise and perhaps something personalised with the date of their nuptials, will no doubt be well-received.
… The couple have asked for cash
The most important thing here harks back to our rule of thumb – only give what you feel comfortable with and can afford. Many people feel uncomfortable giving cash as a gift, even if it's what the recipient has asked for, as there's no way to hide what you've spent. In this situation, a gift voucher – for an amount you can afford and for somewhere you know the couple will shop – is a slightly more subtle alternative.
… The couple have asked for honeymoon contributions
Asking for honeymoon contributions is another popular choice for couples who already live together. They don't need traditional "house set-up" gifts, but know their wedding guests may want to give them something. Many couples set up a crowdfunding campaign to collect contributions, outlining different contribution amounts for ease. As always, only give what you can afford and what feels comfortable. Alternatively, you could find out which travel agent the couple are using to book their honeymoon and buy a gift voucher. Or, if you know where they're honeymooning, buy them a gift voucher or resort credit to redeem while they're away. This is a nice way to give them what they want, in a tangible way.
… You're attending in a couple and only one of you knows the newlyweds
Many things in relationships are split 50/50. If only one of you knows the happy couple at this wedding, though, how do you handle it? This is a conversation that depends a lot on your relationship with your other half. If one of you doesn't know the couple getting married, then it's fine not to want to contribute towards a gift for a stranger. It's important that you don't stop each other from buying gifts or spending the amount you want to, though.
If you have a couple of weddings to attend this year – one for your friends and one for theirs – you could suggest that you pay for the gift for your friend's wedding, and they pay for theirs. You could agree a gift budget you'll each spend, so that it's even. Or, you can spend what's comfortable for you as an individual. If your other half is willing to contribute, suggest that they top up your budget, rather than go halves with you. For example, if you were thinking of spending £40, they could top your budget up to £50 or £60. This will help you buy a slightly more expensive gift.
… It's a destination wedding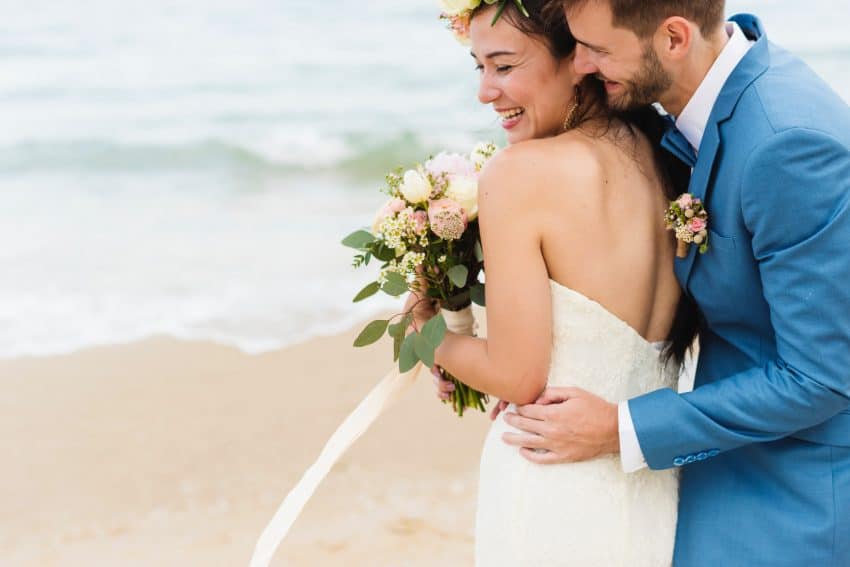 If you're invited to a destination wedding, then the gift should be factored into the overall cost of attending. If attending the wedding and buying a gift is an uncomfortable budget stretch, then you should be thinking carefully about whether to attend at all. Couples getting married abroad will know that their guests are paying for travel and accommodation already. They may specify on your invitation that they don't expect a gift as well. If they do ask for gifts, or aren't explicit about not asking, then a small token that represents your good wishes is generous enough.
Don't plan to take your gift to the wedding with you, though. If everyone takes a gift, how will the newlyweds bring them all home?! You should arrange for it to be delivered either before the wedding or after the couple return home instead.
… You're only invited to the evening celebration
If you've only been invited to the evening reception, many couples will not expect a gift. They should be explicit about this on your invitation if this is the case. If they aren't, or if you want to buy them something anyway, then a gift that costs about half the amount you would have spent if you'd been an all day guest is about right.
However, if the couple are paying for evening refreshments like an open bar, you may want to be more generous. Add an amount commensurate with what you would have otherwise spent on drinks to your budget.
… You can't attend the wedding, but want to buy the newlyweds a gift
Things happen, and it may not be possible for you to attend a wedding you've been invited to. Perhaps you have a clash with another event. Or, maybe it's a destination wedding that you simply can't afford to go to. Generally, a small gift or a lower-cost item from the couple's gift registry is a generous token of your good wishes. Think about what your wedding gift spend would be if you were able to attend. Spend about two thirds of this, and you'll be spot on.
Keeping your wedding gift spend down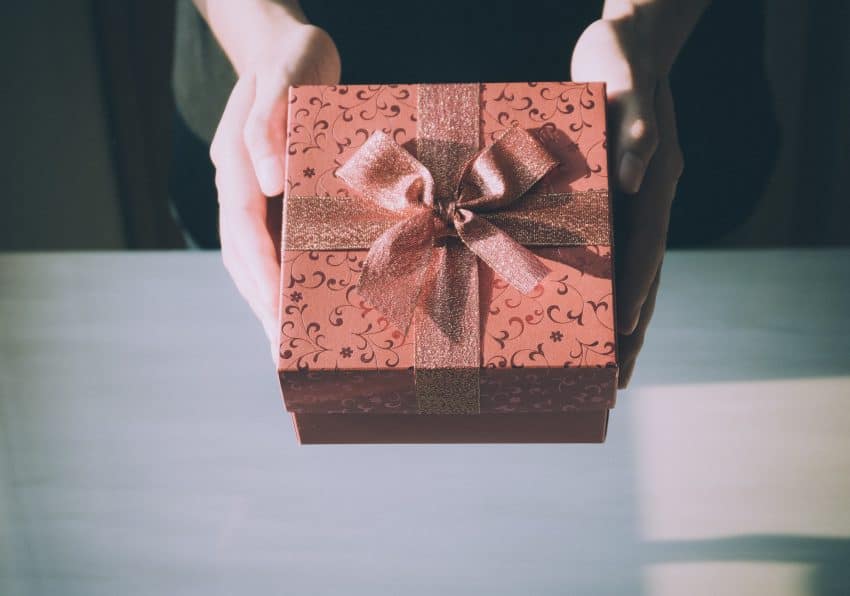 Meaningful gifts
When it comes to gifts for any occasion, it's the thought that counts. Weddings are no exception; a gift that you've put a lot of thought into is just as generous as an expensive one. Gifts that honour a hobby or interest that the couple share are a great idea. Or, if the couple getting married have a favourite song, place or movie that they've made "theirs", what about a gift that represents this somehow? Websites like Etsy and Not On The High Street are fantastic places to find all kinds of personalised gifts. Plus, they cater to all budgets!
Club together
If you can't find a gift for the happy couple that you think does them, and your budget justice, then consider clubbing together with others attending the wedding. This will mean you can contribute to a more expensive gift, without blowing your budget. Perhaps you can club together with your parents and siblings to buy a gift for your newly married cousin. Or, if you're part of the wedding party, team up with the other bridesmaids and groomsmen to buy the couple a gift from you all.
Make the presents
If you have a hobby or talent that lends itself well to this, why not make a wedding gift rather than spend money on it? A customised knitted or quilted blanket is a great gift to receive from someone handy with a needle and thread. Or, if you're more artistically inclined, you could create a painting or even a (small) sculpture for the coupe. Any gift that you can make will be even more meaningful to the newlyweds. What you put into it in effort will more than outweigh what you don't spend in pounds and pence.