Liverpool is a city unmistakable for its accent, skyline and football clubs. If you ask any scouser what makes their city, they'll probably say one thing: the people. Perhaps this is the reason Liverpool's local businesses are thriving, with the independent scene being the hottest movement to get involved in right now. So, what's to be gained from shopping locally, and why does Liverpool love their locals? Take a look at these reasons and see for yourself.
Their loyalty is rewarded…
The Independent Liverpool card supports nearly 100 of Liverpool's local restaurants, bars and shops, giving light to hidden gems that might otherwise go unnoticed. It grants members fantastic discounts throughout the city and first-dibs access on popular events. Co-founder, David Williams says:
'Supporting independents is so important because they're the heartbeat of the city. They're what make us different to every city. Not only that, for every pound that is spent local up to 70p stays in the city rather than 5p spent in a chain. And the easiest part? The revolution is as easy as drinking a cup of coffee, having a post work pint or going for a meal. The resurgence in support for independents has been amazing to view and be a part of over the last few years and long may it continue!'
And their local currency actually makes them money
Yes, you did read that right. Scousers can take advantage of the Liverpool Pound; a digital currency to be spent only in local businesses. Users can locally download an app, leave their wallet at home and pay using their phones. It's free to download and use and comes with exclusive offers for members such as 10% extra on your top-ups! Liverpool pound spenders get more for less while supporting their local businesses at the same time. What's not to love?
They're spoilt for choice
Name a type of food and Liverpool probably has an independent restaurant for it. The same goes for bars, shops, and venues. Some streets like Lark Lane and Bold Street are virtually comprised solely of local businesses, so much so that they've dedicated a week to the city's traders. Independents' Week runs from 3rd to 9th of July and will end with a Bold Street takeover from local businesses and performers. Pay a visit to see what the fuss is all about.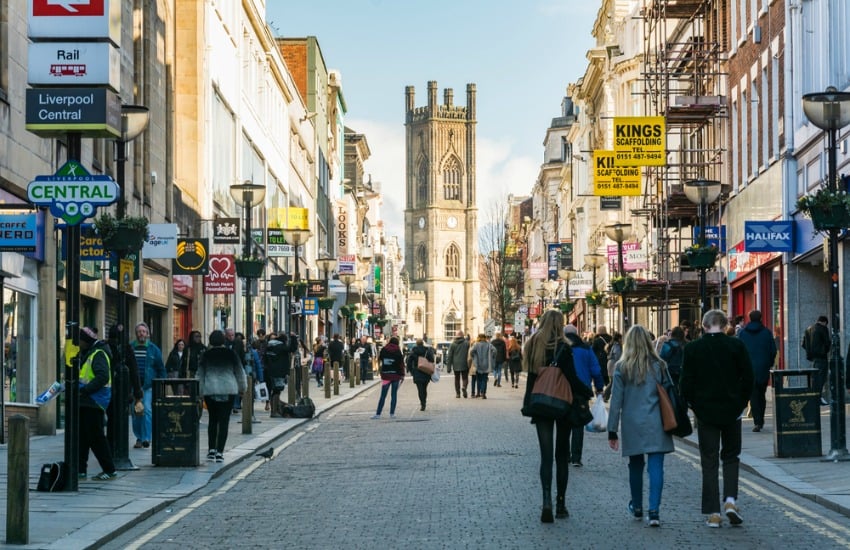 They cater for everyone
Being veggie, vegan or having food intolerances often leaves you with one boring option on most menus. If you're a foodie who's sick of goat's cheese tarts, a trip to Liverpool should be on the top of your list. Firm favourites like The Egg Café and Our Kitchen are ideal for herbivores, while Mowgli ticks every box offering regular, vegan and gluten free menus. Order a tiffin and tuck into a series of surprise delights while donating £1 to charity in the process.
They give back to the community
Liverpool is a city that's proud of its roots and not unfamiliar with struggles. The community spirit is one of the reasons independents do so well here, so of course they love to give back in whichever way they can. One venue with progression in mind is The Brink. Managed by Action on Addiction, this restaurant acts as a safe space for people recovering from alcoholism and addiction, with employees experienced in support. They put on events which are open for everyone including classes, shows and workshops. The best part? Their profits go directly into the local community to help with these issues further.
Their markets are hard to beat
There's nothing quite like experiencing a local market, no matter where you are. Often these are the places with the best prices for the freshest products. Whether you want the tradition of heckling in Greatie Market (located on Great Homer Street), or something exotic from L7 Village Market in Kensington, there's one to suit your needs.
One of the biggest new additions to Liverpool is The Baltic Market. Featuring a farmer's and maker's market every Sunday, food and drinks from local businesses and one-off events like cinema screenings and quizzes hosted by celebrities. If you're new to the independents scene, this is probably the best way to see a lot of it in one place.
They give away freebies
What could be better than a rooftop bar with a gorgeous view of Liverpool? One with a free BBQ. HUS is inspired by the Scandi cool of Stockholm and Copenhagen. Throughout the summer they're offering BBQs for free when you buy a drink; not bad if you ask us! You can also get loads of freebies with the Independent Liverpool card including cups of tea or coffee and even shots!
Their atmosphere is better
Because independents are usually small startups, their staff really want them to succeed. We bet the same can't always be said for most chain stores/restaurants. This means you'll get amazing customer service, a unique experience and staff that value your opinion. You never know, you might even end up getting mates' rates if you become a regular!
Now it's your turn
So, take a leaf out of Liverpool's book and use your local stores! You don't have to do your weekly shop or buy all your clothes from independent stores, but you'll often find better quality and more interesting products. You'll also be helping your local communities in the process.
Read more: Six Ways To Donate To Charity Without Parting With A Penny
Do you enjoy shopping local? Keep an eye out for more articles about a city near you soon!