It's time to get your festive on! While Santa is busy getting ready to visit 1.6 billion children to deliver presents on Christmas Eve, you can kick back and enjoy the planning of food and cheer. Below you'll find a checklist to ensure you've forgotten nothing and remembered everything. From writing and sending Christmas cards to ensuring Santa has enough mince pies to keep him going, we hope you find this useful enough that you can kick back on the big day and enjoy some festive good vibes.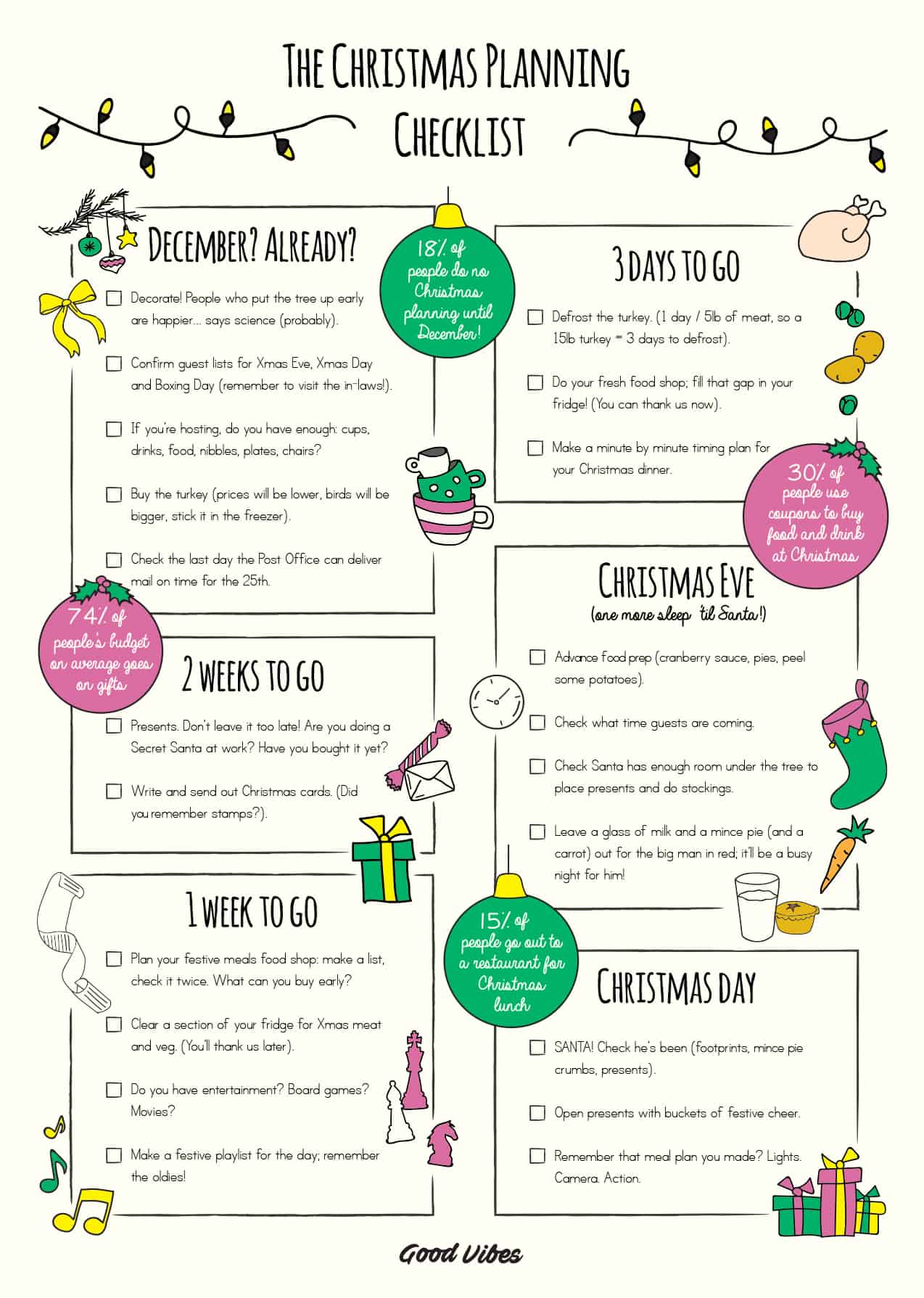 Christmas Planning Checklist – Transcript
December? Already?
(18% of people do no Xmas planning until December!)
–          Decorate! People who put the tree up early are happier… says science (probably)
–          Confirm festive plans (remember to visit the in-laws, it's like the law or something)
–          Do you have enough: cups, drinks, food, nibbles, plates, chairs?
–          Buy the turkey (prices will be lower, birds will be bigger, stick it in the freezer)
–          Check the last day the Post Office can deliver mail on time for the 25th.
2 Weeks to go
(74% of people's budget on average goes on gifts)
–          Presents. Don't leave it too late! Are you doing a Secret Santa in work? Have you bought it yet?
–          Write & send out Christmas cards. (Did you remember stamps?)
1 Week to go
(30% of people use vouchers and coupons to buy food and drink at Christmas)
–          Plan your festive meals food shop: make a list, check it twice. What can you buy early?
–          Clear a section of your fridge for Xmas meat and veg. (You'll thank us later)
–          Do you have entertainment? Board games? Movies?
–          Make a festive playlist for the day, remember the oldies!
3 Days to go
(57% of people do their Christmas shopping online)
–          Defrost the turkey. (1 day = 5lb of meat, so a 15lb turkey = 3 days to defrost)
–          Do your fresh food shop; fill that gap in your fridge! (You can thank us now)
–          Make a minute by minute timing plan for your Christmas dinner
Christmas Eve (one more sleep till Santa!)
–          Prepare some food in advance (cranberry sauce, pies, peel potatoes)
(15% of people skip the faff and go out to a restaurant for Christmas lunch)
–          Check what time guests are coming.
–          Check Santa has enough room under the tree to place presents and do stockings.
–          Leave a glass of milk and a mince pie (and a carrot) out for the big man in red; it'll be a busy night for him!
Christmas Day
–          SANTA! Check he's been (footprints, mince pie crumbs, presents)
–          Open presents with buckets of festive cheer.
–          Remember that meal plan you made? Lights. Camera. Action.