When times are tight, it's hard to believe that actually loosening your belt a little could be a solution. Like our friends across the pond, certain restaurants in the UK offer cash prizes for winning eating competitions, or just finishing a sizeable amount of food. If you fancy your chances at attempting a mammoth meal, here are 7 eating competitions across the UK that offer cash prizes, t-shirts, or even just a free meal.
Related: We Ask Chefs for Their Favourite £5 to Feed the Whole Family
1. Man vs Food – London
Man vs Food are famous for their food challenges which push the limits of the human stomach. Their Three Little Piggies challenge is no different. The basis of this challenge is to eat 3 full racks of ribs, 1 portion of fries and a bowl of coleslaw, all in just 30 minutes. If you can manage this you get £50. If you fail, however, you have to foot a £50 bill.
Where is it? 42 Syon Lane, London, TW7 5NQ.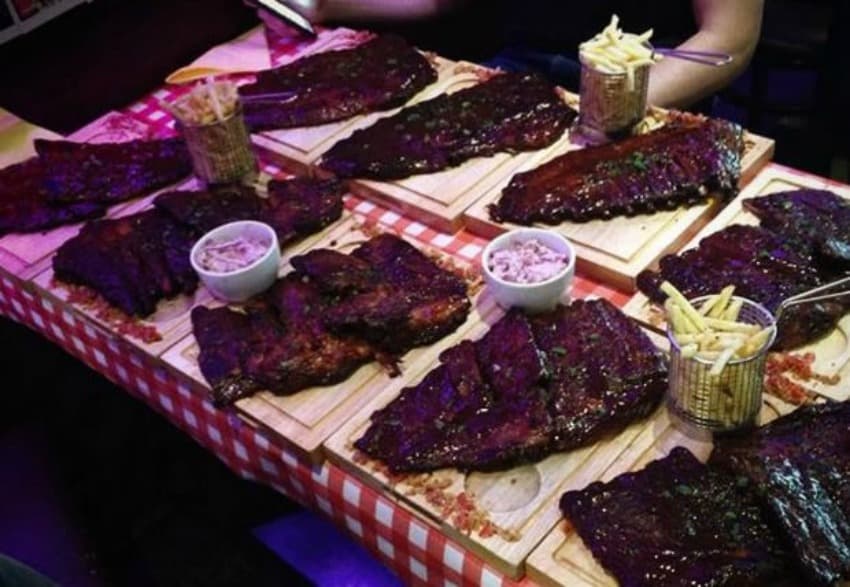 Image courtesy of stageweb.co.uk
2. Rub Smokehouse – Nottingham
This food challenge, courtesy of Rub Smokehouse, involves eating a giant pizza weighing 2.4lbs. And this is no ordinary pizza. It is topped with a double dose of cheese, onions, onion rings, fries and BBQ sauce. The best bit? The pizza base is a giant steak. For this challenge, you only win a t-shirt and an entry on their wall of fame.
Where is it? 2-4 Adam's Walk, Fletcher Gate, Nottingham, UK NG1 1QQ.
3. Uncle Sam's – Liverpool eating competitions
Liverpool's Uncle Sam's challenge consists of scoffing a 5lb burger served with cheese fries and onion rings. If you manage this you'll have bagged yourself a free meal, a medal, a mention on their wall of fame and most importantly, pride.
Where is it? 94 Bold St, Liverpool, England, UK L1 4HY.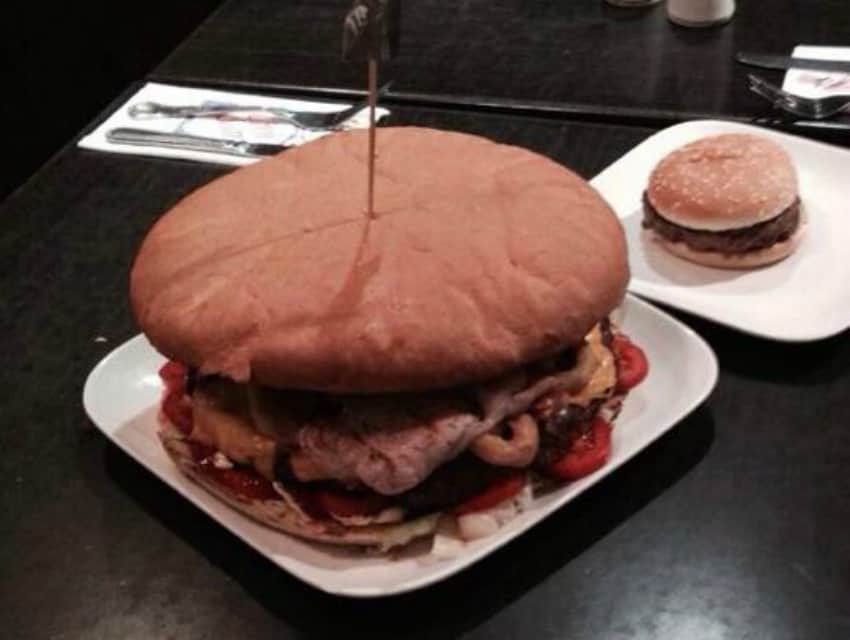 Image courtesy of Facebook
4. Meatliquor – London
If the name Meatliquor didn't suggest it, this challenge is definitely one for meat lovers. The Triple Chilli Challenge involves eating a green chilli cheeseburger, a chilli dog and chilli fries, in under 10 minutes. While there isn't a cash prize with this one, you still walk away with a free meal.
Where is it? 74 Welbeck St, London, W1G 0BA.
5. Man vs Food Grillhouse – Newcastle
This food challenge by Man vs Food Grillhouse is possibly one of the biggest yet. It involves 4 6oz burgers, Monterey Jack cheese, Mexican cheese, beef chilli, turkey, bacon and brisket. On top of that, there's 1kg of fries to wolf down, as well as coleslaw, nachos, onion rings, beans and even chunky chips. The Man vs Food Grillhouse do a monthly challenge night the first Thursday of every month and those who complete their food challenge have the chance of winning £100. Any other day of the week however, your prize will be a free meal.
Where is it? 226 Chillingham Rd, Newcastle, NE6 5LP.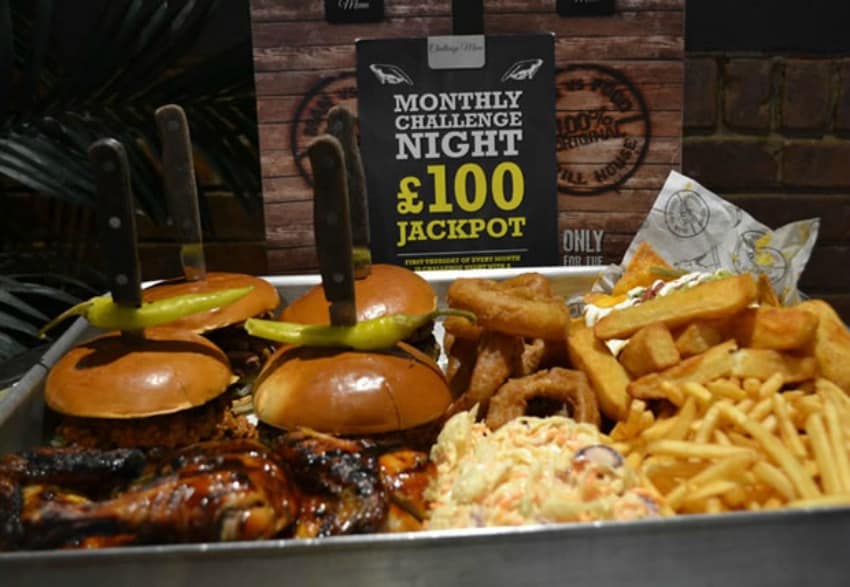 Image courtesy of stageweb.co.uk
6. Genting Club – Blackpool
 The Genting Club's challenge is named after Blackpool's famous tower, due to its colossal height. If you're brave enough, the Tower Burger boasts 4 6oz burgers, 200g of bacon, 100g of cheese, onion rings and a kilo of fries. All of which have to be eaten in 15 minutes. If you manage this one, you receive a t-shirt, a free meal and most importantly 25% of all future meals.
Where is it? 64 Queens Promenade, Blackpool, England, UK FY2 9QG 
Related: How to Have A Brilliant Budget Barbecue
7. The Old Bank – Brighton
Set in a former bank, the Old Bank is a sought-after steakhouse. Their steak challenge gives you 45 minutes to tackle 2kg of steak.  If you're successful you can back yourself a free meal and of course, bragging rights.
Where is it? 120a St George's Road, Brighton, BN2 1EA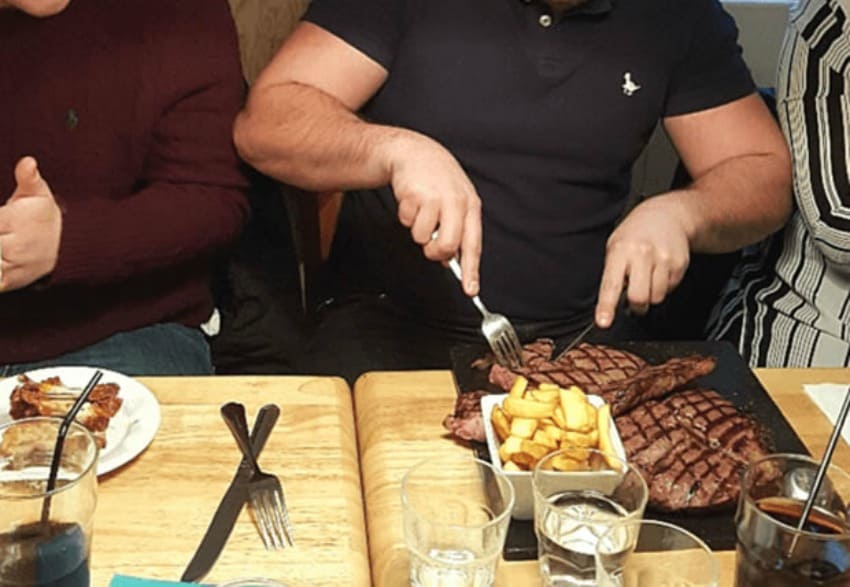 Image courtesy of stageweb.co.uk
Have you come across any other eating competitions which offer prizes?