So, you're going to Oktoberfest. The Bavarian festival of beer, food and traditional attire. If you love any of these three things, this is the place for you. If you've already booked, you'll know just how expensive it can be to stay in Munich during this time. If you're hoping to go last minute, then you may want to save your money for one of the UK's tributes this year! We've put together a list of ways you can have all the festival fun without the hefty price tag. And all it takes is a little bit of planning. As the Germans say, 'Prost!'
Getting to Oktoberfest
You've booked your flights and know how you're getting from the UK to Germany, but that's not the only travel cost you'll have. It's easy to spend a lot of money without realising on your outward journey, on taxis at both ends, and in the airport. Buying food and drinks in the airport soon racks up a big bill. Instead, bring a packed "lunch" to eat before you take off and pack some snacks such as cereal bars or crackers to keep you going on the flight. You can take no more than 100ml of liquid per container in your hand luggage due to airport security restrictions, but this doesn't stop you bringing an empty water bottle. You can then fill this up with the drinking water fountains provided in airports.
Taking public transport once you land in Munich will also save you a lot of euros! A Taxi will set you back around €59 one way, while you can get a return bus ticket for just €17 on Lufthansa's express bus service. However, if you're travelling in a group, it may be worth getting a group ticket to travel on the train from the airport. The ticket costs €23.90 and can be used for up to 5 people which works out at just €4.78 each! Both of these options take you right into the city centre.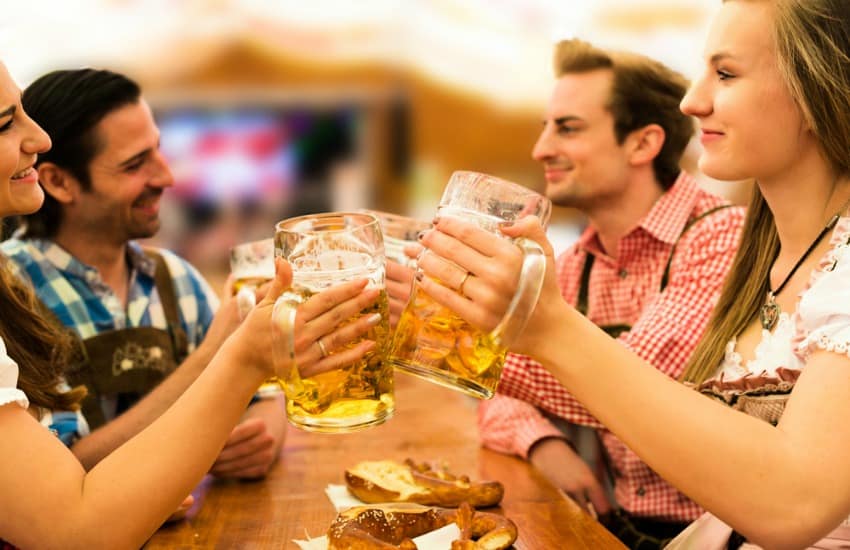 Read more: 9 Microadventures You Can Go On This Weekend
Where to stay
You may have already booked your accommodation, but we've found an alternative that might tempt you to cancel that expensive hotel.
Oktoberfest comes with one of the most familiar traits we see with our own festivals – camping. This is, understandably, the cheapest way to stay in Munich during the festival. However, if you don't quite fancy the idea of lugging a tent and supplies around Europe, look no further than Stoke Travel.
These guys provide pretty much everything you need for a perfect stay at Oktoberfest. Pre-erected tents equipped with mattresses and sleeping bags, plus breakfast and evening meal included, all for €60 per night. For an extra €10, you can even bag yourself all-day access to beer and sangria. This is one of the few times something that sounds too good to be true really is as good as it looks!
Stoke Travel also host a mini festival outside of the huge halls of Oktoberfest, affectionately named Stoketoberfest. You can join in the fun here if the main festival gets a bit too much but you still fancy a party. It's also a lot cheaper than the main event, as you can use your daily beer pass throughout their venue rather than paying around €11 per stein at the main event! That means you could essentially have your accommodation, food and drink complete for €70 a day without having to miss the party.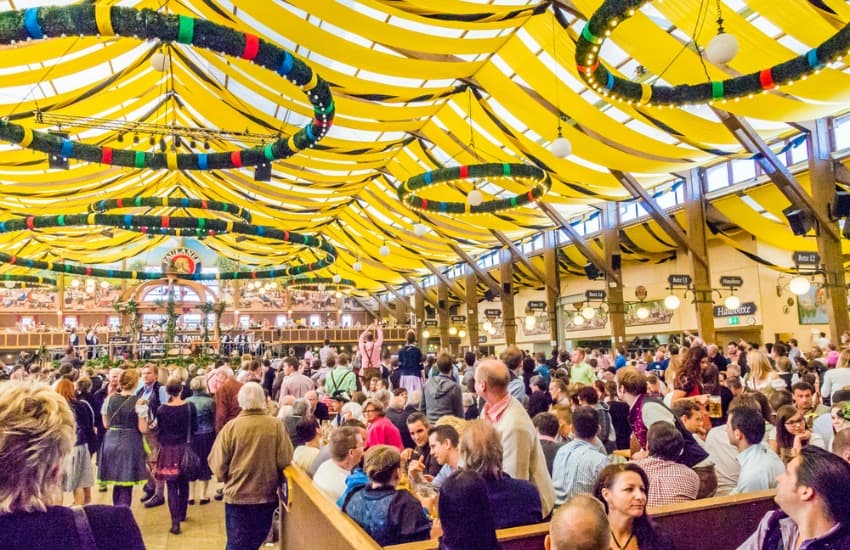 What to eat
Food is one of the biggest and best ways to experience the Bavarian culture at Oktoberfest. If you're a lover of pretzels, sauerkraut and sausages in all varieties, you'll be spoiled for choice. First of all, ensure you eat enough to soak up those litres of beer, or you won't remember what it tasted like anyway. And at 6% alcohol, you won't need many beers before you start feeling the influence.
The best thing to remember is not to eat inside the beer halls. In there, you can expect to pay around €15 for a meal. Outside the halls, in the fairground area, there are perfectly good stands selling food and drinks which are usually at least half the price. The 'snack' foods on offer are ideal for keeping your stomach full throughout the day and run at about €5. Remember, if you're staying with Stoke Travel, you'll be getting your breakfast and evening meal free!
Alternatively, visit a supermarket or local store and stock up on snacks to eat during the day. These will inevitably be cheaper than anything you'll buy in the festival.
Related: 10 Bargain Last Minute Holiday Destinations Cheaper Than A Staycation
What to wear
A big no-no of Oktoberfest is wearing a costumey version of Lederhosen or Dirndl. These are expensive, traditional costumes which people are extremely proud of. Buying a cheap version from a fancy dress shop will risk you being laughed out of the halls!
If you do want to dress for the occasion, instead of spending hundreds on authentic Lederhosen you'll likely never wear again, go for an outfit that embodies the spirit of the area. For men, blue checked shirts look brilliantly Bavarian. Women can get the look by wearing a traditional plaited hairstyle complete with blue bows.
It's also perfectly acceptable just to go dressed in your normal clothing. After all, the experience is about eating, drinking and having fun, not a fashion show.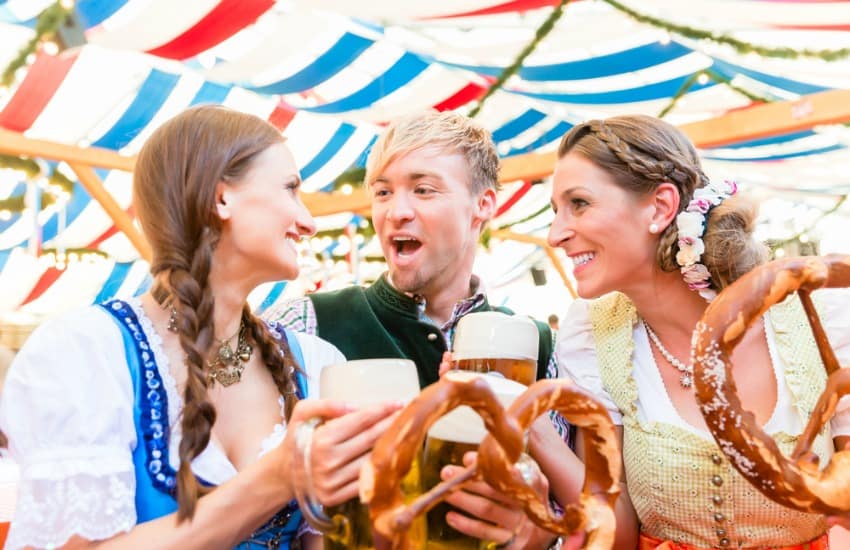 Your money
Last but certainly not least, take some time to work out your budget. If you're taking cash, always buy your currency before you go and don't leave it until you get to the airport. Keep an eye on the best deals near you by visiting Compare Holiday Money and reserve your currency online. If you'd rather not carry a wad of notes around with you, a pre-paid card might be a good option. You can compare exchange rates and request different cards online, too, and they arrive within a few days.
Once you've got your currency sorted, ensure you set yourself a daily budget, factoring in food, drink and any transport you may need. When this is spent, stop! It's all too easy to top up a pre-paid card from your bank account once you've used your balance, or use a credit card. Using credit cards abroad in particular can rack up hefty fees, so it's a good idea to leave these at home or bring one only for use in case of an emergency.
So, there are our top tips for having the best budget Oktoberfest experience you could ever dream of! Auf Wiedersehen!