Now that it's January, you're perhaps considering your New Year resolutions and one of these may be to save some money in 2019. It's no secret that gym memberships can be expensive and sometimes finding the motivation to get dressed, travel there and then work out is all too much alongside a long day at work. So, this year, make your house and local area your new workout space, and save some pennies at the same time! You don't need flashy equipment to get fit, just some dedication, a little time and a small space you can move in. Here, we've pulled together some great ways of keeping fit at home, without an expensive gym membership in sight.
How to keep fit without the gym
Run around your local area
Bodyweight workouts at home and in the park
Yoga in the living room
Deep clean the house
Cycle around your street
Join a sports club
1. Try out jogging
Running is an excellent exercise for improving your general fitness and enjoying the great outdoors at the same time.
Where can I run?
Whether you live in the middle of a city or in the countryside, you can always find somewhere to run. You don't need a dedicated race track to catch the running bug. Here are some areas you may have near you to plan a route around.
Do a loop of your street or block

Do a lap of the local park

Run around the edge of your local dog walking field

Run to the shops and back

Dash around the garden

Run up and down the stairs

Jog back home after the school run

Run on your regular dog walk route (the pup will love it too!)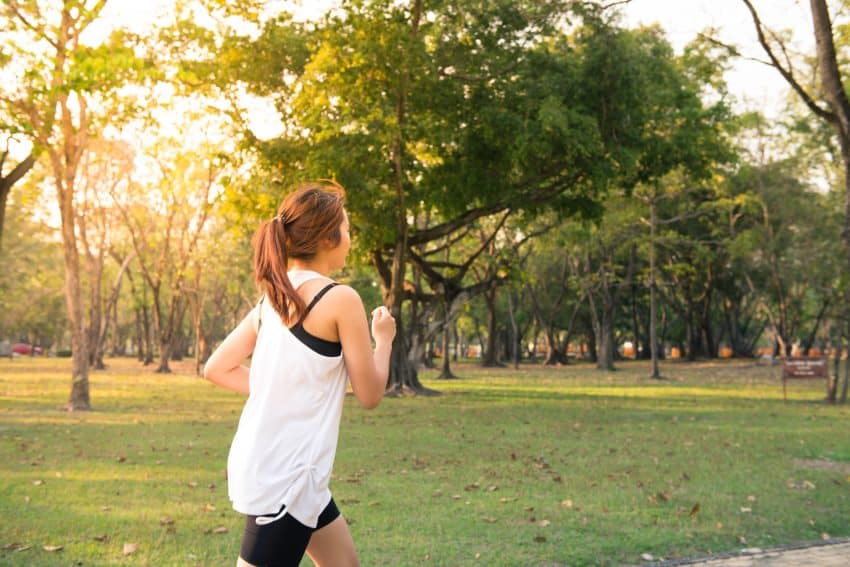 How to stay motivated when running
It's easy to stop the moment you feel tired but building up stamina when running requires you to push yourself a little further. Here are five ways to push yourself to reach those running goals.
Use a training podcast –

The Couch to 5K podcast or app is really helpful, as it guides you through a run, telling you when to go faster or take a break. You can even pick a celebrity trainer to help keep you going.

Good headphones + a great playlist –

Music can spur us to keep going, so pull together a playlist featuring some upbeat tracks you can hit the pavement to.

Wear comfortable clothes –

Leggings, good running trainers, a decent sports bra for the ladies and an oversized t-shirt are all you need to make up a running kit. It's worth looking into having a gait analysis done if you decide to continue running regularly. This looks into how your feet land and the best shoes to wear to support your ankles and knees. Your local running shop may offer this service or look around for

one you can do at home for free

.

Have markers to aim for along your route –

Run to the next lamp post or a tree in the distance or until you reach the end of the road. Push yourself to get to the next marker before you take a break and you'll discover that you can build up stamina pretty quick.

Set a goal

– Many people aim to run a 5k, but if this is your first time running, a smaller goal might be more achievable at first. Maybe you want to run non-stop for 10 minutes or do a full lap of a park near you without stopping. When you've hit that goal, set another, bigger one to aim for. You'll hit that 5k target in no time!

Join a club –

Many local communities have running clubs that are free to join and a great way to get into a routine when running, plus make friends.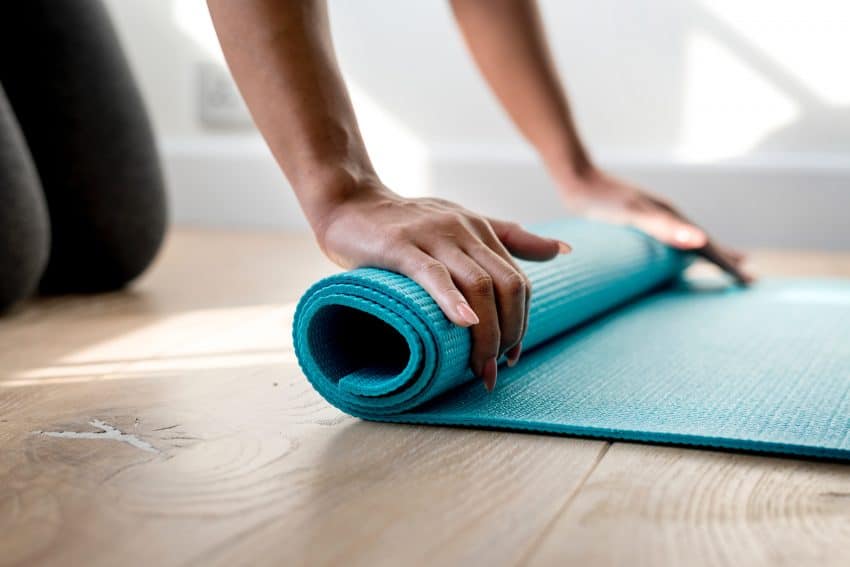 2. Bodyweight workouts in the living room
Your living room is the perfect space for a workout, even if you need to push the coffee table out the way and shut the dog in the kitchen to prevent it from trying to join in.
To work out at home you don't even need much equipment, there are so many bodyweight exercises that can build up muscle and improve your general fitness. The only thing we do recommend buying is an exercise mat to stop you from falling on slippery floors and to shield your knees from hard surfaces.
What exercises should I start with?
Plank
Great for: Your core
Lay on the floor, resting on your elbows with forearms flat on the floor and balance on your toes.

Ensure your bum isn't sticking in the air and your tummy is strong and tucked in.

Hold for 10 seconds then build up the time gradually each week as you get stronger. Introduce different variations like the press up plank or side plank.
Squats
Great for: Your bum, core and legs
Start with feet hip-width apart, hold your arms straight out in front to balance then bend your knees and lower yourself down slowly.

Try to keep your thighs parallel with the floor and torso straight.

Keep your heels flat on the floor, don't lean forward on the balls of your feet.

Use your legs to raise yourself back up.

Start with five, then add more as you get stronger.
Push-ups
Great for: Arms, chest and back
Start on your knees to make things easier.

Lean forwards on your hands, ensure they are parallel with your shoulders.

Lower yourself down towards the floor, with all your weight on your arms, your elbows will move out to the sides.

Push yourself back up into the original position.
Before you start any exercise, it's best to read up or speak to an expert about good form, to avoid injuring yourself. This guide from Runners World shows you the techniques with some of the most common bodyweight exercises and how to perform these safely.
Can I do these exercises outside?
Yes! Head out into the garden or plan to visit the local play park, where you'll find that there are loads of ways to use the bars and equipment there for a workout. You can perform tricep dips on railings, do step-ups on benches and practice your pull-ups on the monkey bars.
Take your kids along with you and let them play while you take advantage of the equipment to squeeze in some exercise. This workout from Parents.com is a great one to try.
3. Try out yoga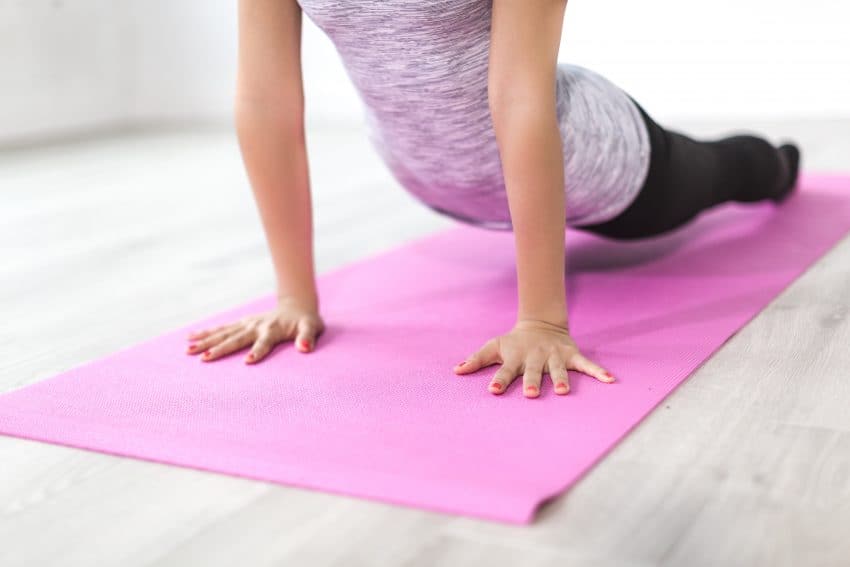 Not only is it great for stress relief and relaxation but yoga also improves flexibility and overall strength and there are so many tutorials online to follow from the comfort of your own home. All you need is a yoga mat or towel and some comfy clothes that don't restrict your movement.
Yoga with Adriene is one of the most popular choices on YouTube, with a whole host of yoga workouts for every ability and need. Try to schedule in one or two sessions a week to open up your muscles, stretch out your body and just take some time for yourself.
What are the best yoga poses for an all-over workout?
Here are some of the best to try out at home:
4. Deep clean the house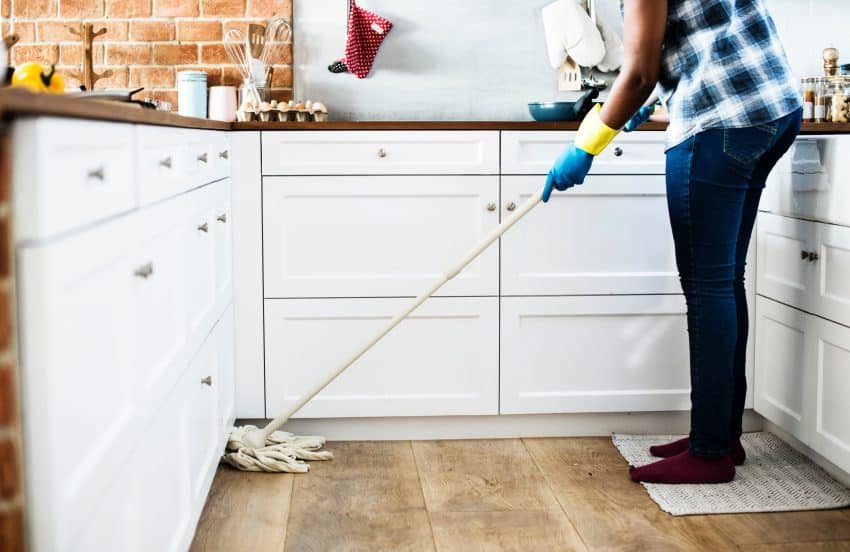 Sprucing up the house might not sound like a workout but if you do a deep clean each week you'll feel it by the end! Perhaps plan a deep clean of each room every week and then rotate as you finish each one. The guys at Shape.com have worked out that you can burn a lot of calories when scrubbing the house. Here are just some examples:
Cleaning the bath – This can burn 90 calories if you do a deep scrub for 15 minutes.

Cleaning the windows – 30 minutes of squeegeeing and wiping can burn up to 167 calories.

Vacuuming – A 30-minute vacuuming session can burn as much as 119 calories.

Washing the car – This will burn 153 calories; be kind and wash your partners as well to burn a few more!
So, don't let those chores mount up – skip the regular workout and get the cleaning kit out instead. If you need some inspiration, follow @mrshinchhome on Instagram, where she shares tips and tricks on her Stories. 
5. Take the bike out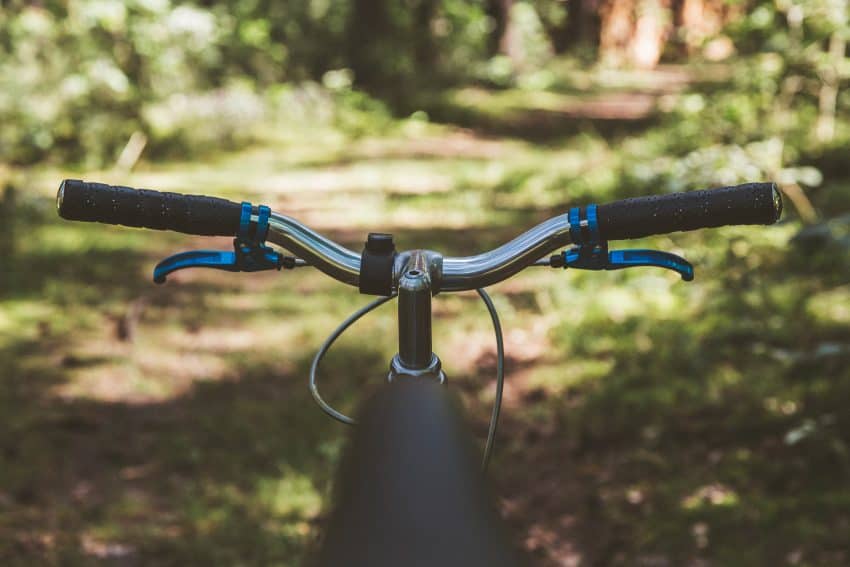 Cycling doesn't have to involve expensive road bikes made for speed and epic routes. But, it does take a small investment before you can have fun biking around your local area to get fit. This type of exercise is definitely better in warmer weather. Perhaps make it your summer workout and swap it for one of the above when winter draws in. Or, just invest in some great waterproofs and have fun whizzing through the puddles like a little kid again.
Here's what you need to make cycling your new alternative workout:
A bike in good working order –

Check it over to ensure the tyres are in good order, the chain is oiled and correctly in place and that the brakes work as they should.
A helmet –

Safety is so important, especially if you are riding on the road, so invest in a good bike helmet.
Cycle lights –

If you're riding in the dark ensure you're seen by other road users and pedestrians.
Shoes with grip –

You don't want your feet to slip off the pedals, so choose trainers with a good grip on the soles.
High vis jacket or strips –

Invest in a good high vis jacket or reflective strips that you can velcro onto your arms and legs.
6. Try out a new sport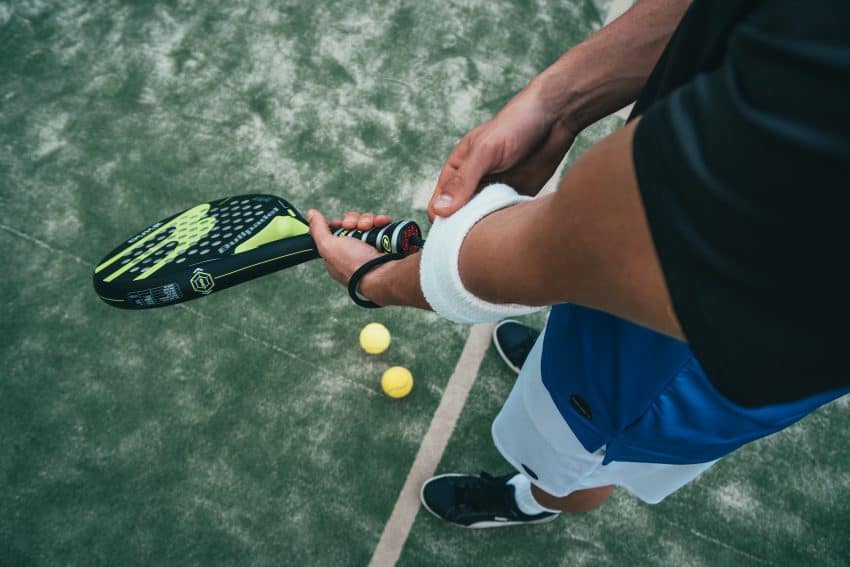 Ever wanted to try your hand at tennis or play on a football team? There are lots of local clubs up and down the country that you can join to keep fit and make friends. There will be a fee but this is usually less than a gym membership and you're not tied in either.
The BBC has a great list of sports and where you can find local clubs here, so whether you're into hockey, karate or want to give archery a go, you're sure to find something for you. Most clubs allow you to borrow equipment until you're ready to buy your own. So, there should be very little upfront cost for you to worry about.
When it comes to keeping fit on a budget, there's lots you can do without joining a gym. Try these workouts this year and stay in shape at home, while saving a tonne of cash that can be put towards savings, an emergency or rainy day fund, or a little for something fun.