According to Sunny's latest research, Italian is the UK's favourite cuisine. 22% of Brits named Italian as their top choice when it comes to eating out at restaurants. It looks like we're prepared to splash out on our favourite meals, too: 26% say they spend a whopping £40-50 per person when they go out for an Italian! So it's easy to imagine how much you could save if you swapped one of your Italian meals out for one at home. And, what better way to do it than by making your own fresh, homemade pizza? Take on Sunny's #DIYDineOut challenge with my homemade pizza recipe, and remember to tag me @lindsaysfeast and Sunny @wearesunnyuk if you share your pizzas on Instagram!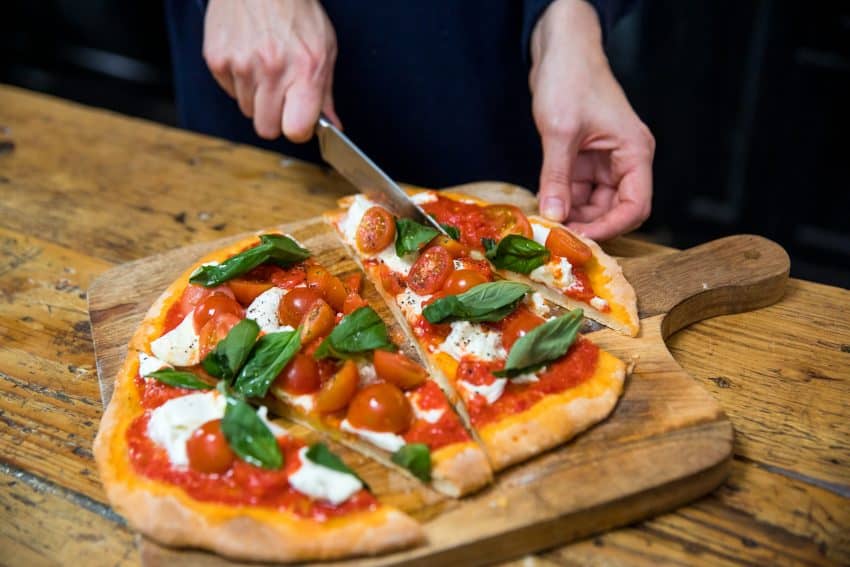 Ingredients
500g strong white bread flour
1 1/2 teaspoons of baking powder
500g Greek yoghurt
1 teaspoon of salt
2 red peppers
4 cloves of garlic
200ml chopped tomatoes or passata
4 tablespoons of olive oil
150g fresh cherry tomatoes, chopped
390g buffalo mozzarella
Fresh basil
Salt and pepper
Method
1: Preheat the oven to 180C. Remove the stalks and seeds of the red peppers, roughly chop and arrange in a roasting tin along with the garlic. Drizzle over 1 tbsp olive oil and season with salt and pepper. Roast for 20 mins until soft and slightly caramelised.
2: To make the flatbread pizza base, combine the yoghurt, flour, salt and baking powder in a large bowl. Use a knife to mix together, eventually using your hands when the mixture begins to form a dough. Knead briefly to smooth out the dough. Leave to stand in a floured bowl and cover with a plate or clingfilm.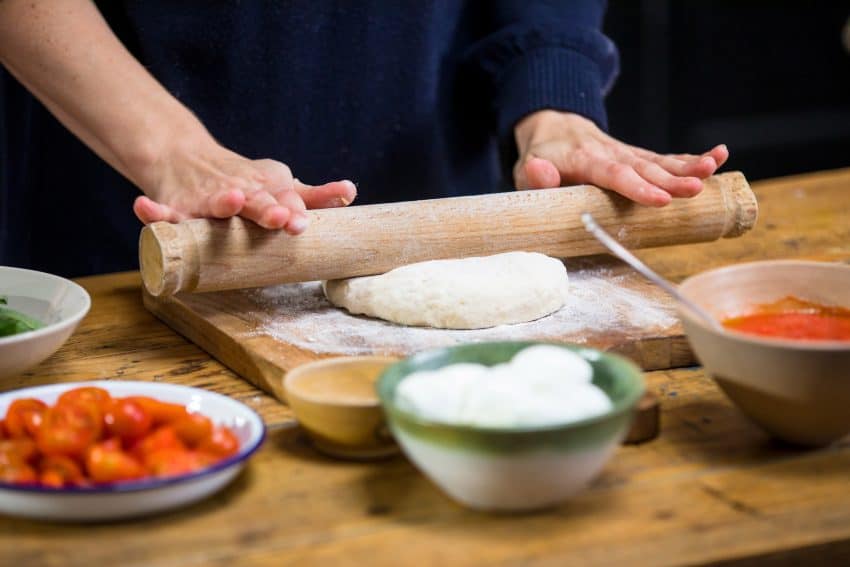 3: Once the peppers are cooked, pulse them, along with the garlic, in a food processor. Stir in the tin of chopped tomatoes and drizzle with 1 tbsp olive oil.
4: Divide the dough into two balls. Lightly flour a surface and with a rolling pin, roll each dough ball into a rough circle. Spread over the roasted red-pepper tomato sauce, reserving a third of the mixture. Bake both bases for 20 minutes in the preheated oven.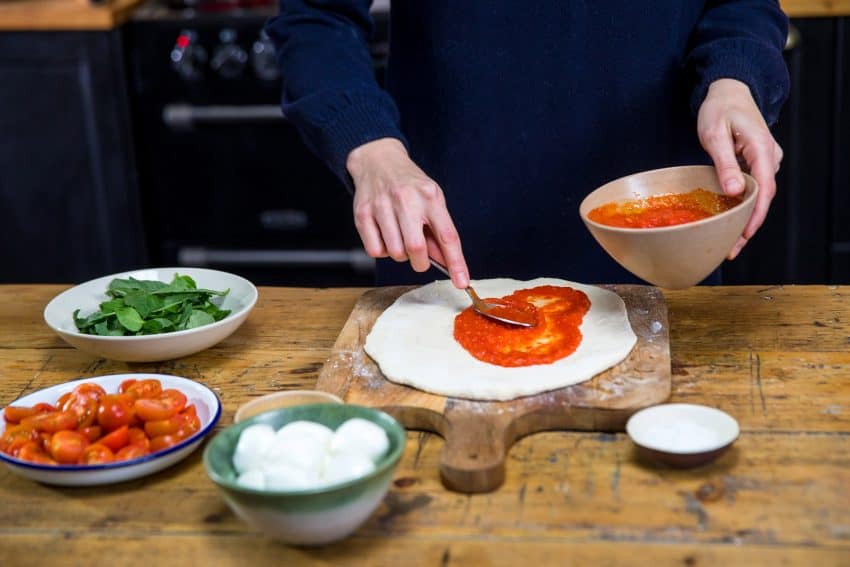 5: Remove the bases from the oven, scatter over the chopped cherry tomatoes and mozzarella. Add a few dollops of the leftover Red pepper sauce. Tear over the basil leaves and drizzle over the remaining 2 tbsp olive oil.