Perhaps you volunteered, or perhaps the responsibility was thrust upon you. Either way, it looks like you're making your first Christmas dinner this year. Congratulations! Whether you're cool as a cucumber or petrified about the prospect of being to blame for the Christmas feast, our tips will help first-timers and seasoned Christmas dinner preppers alike.
Be practical
Whether you're cooking Christmas dinner at home or commandeering a kitchen, make sure you scope out your facilities ahead of the big day. We all hear nightmare stories of people whose ovens aren't big enough for their turkey. It's easily done if you don't check in advance! Make sure you have enough roasting tins and trays, pots and pans, and enough tableware for everyone you'll be serving. If you're a few short, you can always ask to borrow supplies from your visiting guests. Just make sure you wash their loaned items before you give them back!
Plan your time
A Christmas dinner has a lot of moving parts to think about, and they all need to be ready, and still warm, at the same time. Make a list of all the dishes you plan to prepare, and how long they need to cook. This will help you to work backwards from dinner time to figure out when you need to start your preparations. Some dishes, like stuffing and pigs in blankets can be prepared the day before and refridgerated until you're ready to cook. That's two less dishes to worry about on the day! You can also make your gravy and sauces ahead of time and keep them in the fridge or freezer, then warm them through when you're ready to serve. Don't forget to factor resting time for your meat into your plan for the day, too!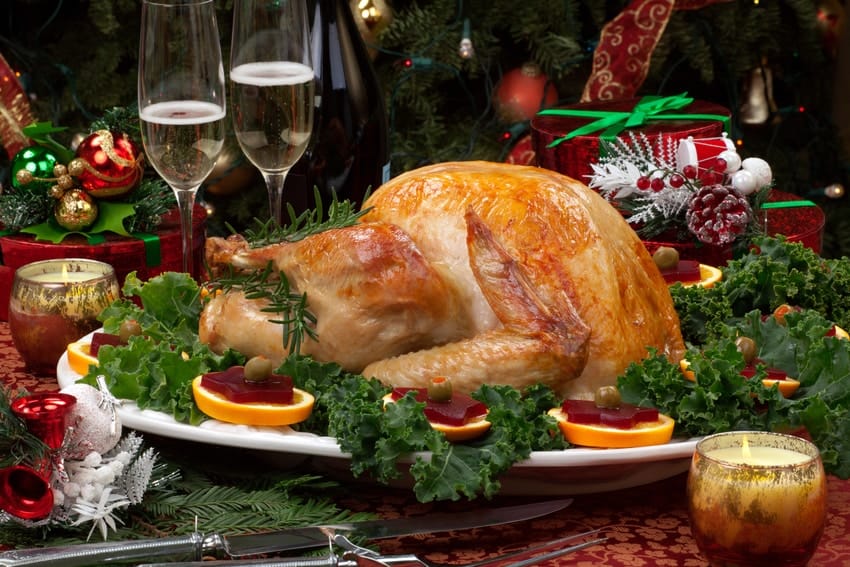 Quality over quantity
The phrase "quality over quantity" applies to many things in life, and Christmas dinner is certainly one of them. You need to make sure everyone has enough food, but don't feel pressured to cook every variation of a Christmas dinner in existence. You'll run yourself ragged if you try to serve up 4 different types of potato and a rainbow of vegetables. Take into account essential dietary requirements, then keep it simple with a plentiful supply of a few quality dishes.
Hold a practice Christmas dinner
If this year is not only your first Christmas dinner, but your first roast, have an advance practice run on a smaller scale. You can test how all our dishes fit in your oven to make sure you have enough space. Practice negotiating the different cooking times all your different dishes need. It'll also help you to work out if you're going to need to delegate any tasks on the day to make sure everything runs as smoothly as you want your gravy to be.
Cheat!
There's no rule carved in stone that says everything you serve on Christmas Day has to be homemade. For many of us, it's the goal, but if there's something can't get right, or simply don't enjoy cooking, cheat! From condiments in jars to frozen roasties, the options to lighten your Christmas culinary load are endless.