It's that time of year again: in the lead up to Spring, we often feel like we need to give our homes a revamp. Over time, we amass a lot of things at home that we don't need. Some we keep for sentimental reasons, others we're just too lazy to get rid of!
Making an effort to have a good clear out can pay off. Not only will you get a load of space back by having a de-clutter, but you could make some money on your unwanted things – after all, one man's trash is another man's treasure! Follow our handy guide on the different ways to sell your unwanted items and reap the rewards.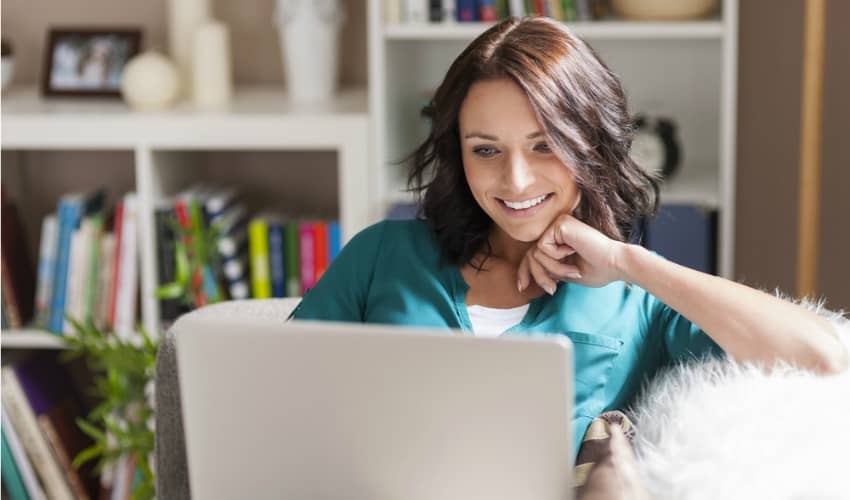 Sell Online
Online classified ads
Sites like Gumtree and Preloved are a great way to sell large, bulky items, like furniture, that can be difficult to get rid of. Creating an advert is free and really easy. Simply choose the category your item belongs in, upload a picture of it, pen an appropriate description, and off you go. You can even add your location to the ad to attract local interest. This is especially important if you're offering to deliver and don't want to have to go to the other end of the country! You can even list items as for collection only, which takes the pressure off you entirely.
What to sell?
Dining tables and chairs, sofas, and chests of drawers all sell well online, particularly in locations known for their student populations. Landlords are frequently on the lookout for cheap furniture in good condition for their properties.
Online auctions
eBay have the monopoly here, and for good reason – you can sell virtually anything! Like Gumtree and Preloved, you can list large items as collection only to encourage local buyers, but it's also great for smaller items that can be easily posted, too. Advertising and selling on eBay isn't completely costless – you can list 20 items a month for free, and eBay will take a small cut of whatever you make from selling your wares. With the smartphone app, photographing and listing your items for sale is easier than ever. There's even a barcode scanner built in that will create a listing for you if it recognises the item – great for CDs, DVDs, etc.
Related: How To Upcycle Old Stuff
What to sell?
All things, great and small, sell well on eBay depending on the time of year. Electronics, clothes – especially designer – and collectibles like toys and trading cards fly off the metaphorical shelves at all times of the year as long as they're in good condition. During the summer, books can be hot property too as many students turn to eBay to pick up their reading material for the coming year at prices that won't break their budgets. It's worth noting that eBay do have some rules about restricted and prohibited items, so always best to check that you're actually allowed to sell your item before you try!
Trade-in online
Another option to get rid of unwanted items quickly, and make some money back on them, is to trade them in online. Sites like O2 Recycle (you don't have to be an O2 customer to use this service) and Music Magpie allow you to sell a range of small items and electronics simply and easily. You may not make as much from this method of selling as you would on eBay, for example, but if you're more keen to clear out some old junk than to make a load of money, this could be the option for you.
What to sell?
CDs, DVDs, games, and electronics like old consoles, mobile phones and tablets are the specialty of trade-in sites. Some also support other items like larger electronics, and other small items like books, too. Each site will list what they do and don't accept, so it's always worth checking before you send them anything!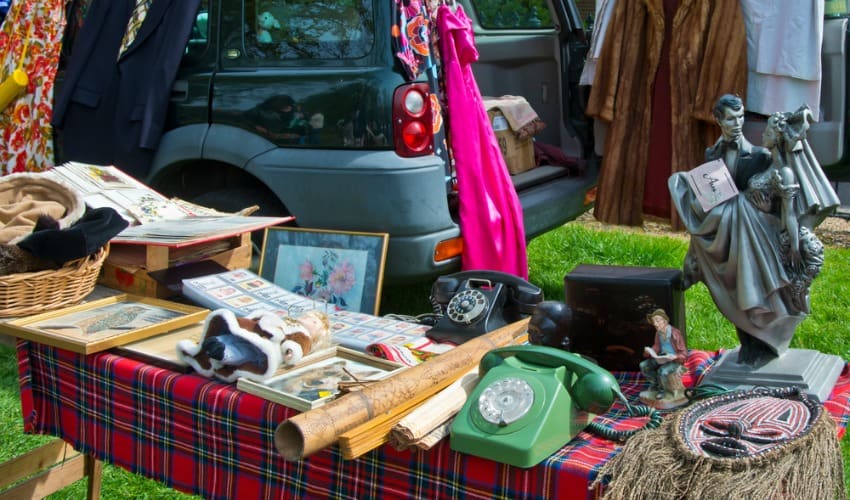 Selling at markets and fairs
Car Boot Sales
You may think that car boot sales are a thing of the past, but trust us – they're very much alive and well. While you're unlikely to make a substantial amount of money car-booting, you'll have so much fun on the day that any money you do make is just an added bonus. If you've never been to a car boot sale before, it's a good idea to find a reputable local one to visit before you take the plunge and sell for yourself. Use CarBootJunction to help you find events near you and information about them. By scoping out a few, you'll get a feel for where the best spots to set up are, and see what the best-selling items are.
What to sell?
At a car boot sale, almost anything goes. Smaller household items like lamps, artwork and other accessories tend to do well, as do clothes, books, and "vintage" items like vinyl records that could be scooped up by collectors.
Here are a few tips for a successful car boot sale:
Get there early- Find out what time the sale starts and get there a couple of hours before to set up. There will be tonnes of other sellers jostling for position, and the best spots are likely to go early on!
Presentation is key – you wouldn't want to shop in a store that looks a mess, and your own stall should be no different. Setting items up nicely allows people to see them properly and will entice them to look around.
Check the weather- If it's going to rain and you aren't prepared, it could be a very short day for you. Taking a transparent plastic cover will protect your items from water damage while allowing buyers to see what you're selling.
Bring bags – if you're selling breakables like ornaments, bring newspaper and bags to wrap them in. Your customers will thank you.
Price everything – some people love haggling, but some just want to buy. Pricing things with stickers or tags will make the day a lot easier for you.
Read more: What To Do With The Christmas Presents You Aren't In Love With This Year
Craft markets and sales
If you have a bit of artistic flair or turn out to be a dab hand at upcycling, then you might discover you can flog your wares at local craft markets and fairs, rather than having a cluttered collection of handmade oddments at home. There's a huge market for personalised and unique items at the moment, so turning a hobby into a side-earner could be quite lucrative for you!
What to sell?
All things handmade – from bread and cakes to stationery and from pieces of art to toys – are exactly what craft markets and fairs are made for. Smaller items tend to do better than larger ones at these types of events, simply because they're easier for your customers to carry around as they browse the other stalls, but if you're happy to arrange delivery or collection with your customers – and advertise it – larger items like furniture could do well, too.
Our tips for making money at markets:
Again, presentation is key – how you present your stall and lay out your creations is a big chunk of what attracts potential customers to you, so making it look appealing is half the battle. Using props like boxes and shelves as part of your display will give it a bit of height and bring your items up to eye level, and will give you space to display more, too! Props can be decorative too, to help your customers visualise your items in their homes and lives.
Price everything clearly – we all know how it goes: if you have to ask how much it is, you probably can't afford to buy it! Craft markets are different to car boot sales in this regard, and people are less likely to haggle since they appreciate the effort and skill that goes into making anything worth selling. Having a clear pricing list for your wares, or labelling each item individually, will help you massively. If you're not sure what to charge, see what other similar crafters are charging for their work, and follow their lead.
Take some business cards and flyers – giving a flyer or card to every customer who buys something from you could help to drum up further business for you if they pass it on to a friend who loves your work. Keeping a stack as part of your display is also a good idea – a customer may not buy something now, but by taking a card they're showing an interest in your items and are likely to get in touch about buying something later.
How do you make money from your unwanted things? Share your hints and tips in the comments section below!