If you're trying to adopt a healthy lifestyle and eat more balanced meals, there's no need for your portions to shrink drastically while your food bill soars overnight, as many "healthy eating" fad diets will have you do. A sprinkle of goji berries here, a handful of chia seeds there, and before you know it your weekly shop costs more than your rent!
Thankfully, it doesn't have to be this way. The Food Effect approach to healthy eating is all about enjoying plenty of simple, healthy, fat-burning foods that are great for you and good value, too. Eggs, tuna, beans, lentils and good old-fashioned porridge oats are staples of the approach, as well as less expensive but no less nutritious vegetables, such as cucumber, tomatoes, carrots, and onions.
It doesn't have to be a toss up between eating healthily and eating on a budget, you just have to resist the temptation to cut back on protein (which is often more pricey) and fill up on refined white carbohydrates such as white bread, pasta, cakes and biscuits. These things might be cheap, but they'll spike your blood sugar levels and leave you feeling hungry, tired and lethargic shortly after. Plus, they do nothing to help your health!
Unrefined carbohydrates such as brown rice, whole-wheat pasta and whole-grain bread are far better options with very little difference in price.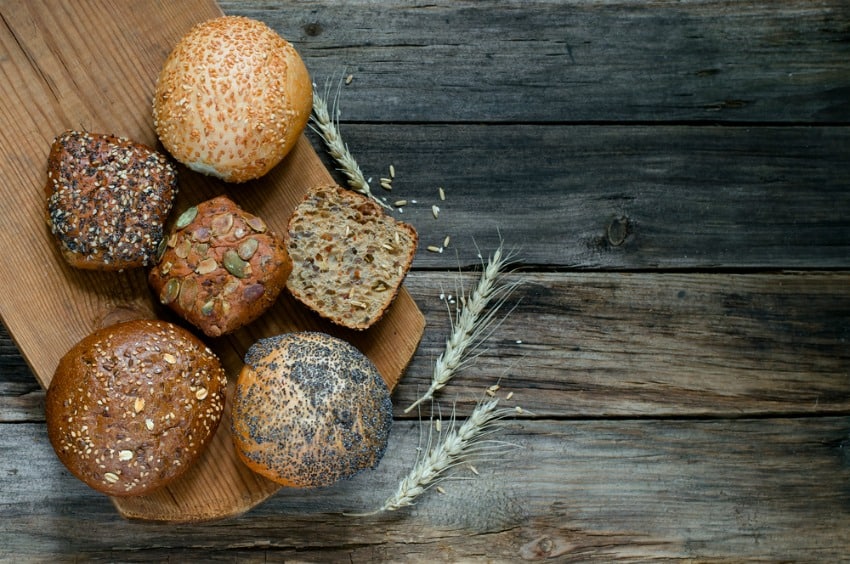 A good supply of healthy protein is also essential for staying slim and satisfied. If  corn-fed chicken and organic salmon are too pricey, there's no need to worry – eggs, tinned tuna, sardines, chickpeas, kidney beans, low-fat natural yoghurt and cottage cheese are cheaper ways to get your fill of protein, without any compromise on quality.
Healthy fats are also essential for health and weight loss (yes, you need good fats to burn fat!), and these can be found in a handful of nuts, a tablespoon of peanut butter or a tin of sardines, none of which will break the bank.
One of the best ways to save money and eat healthier is to cook from scratch. This need not be time-consuming or complicated. You can make a batch of soup or stews to heat up throughout the week, and have these with some whole-grain bread or pitta that you keep in the freezer, or some brown rice, whole-wheat pasta or couscous.
The weekends are a good time to batch cook – make a big batch of meals or staples (such as brown rice or pasta) that you can pop into the fridge or freezer. This will help you to resist the temptation to splurge on takeaways or ready meals after a long day of work.  You can take leftovers from dinner in a Tupperware for lunch, instead of picking up a sandwich from a supermarket or deli, which is no doubt more expensive and far less healthy. Avoid impulse buying snacks during the day, which are probably unnecessarily expensive and pile on the calories. Instead pack fresh fruit (an apple in your bag travels well!) along with some raw nuts, which you can portion into mini Tupperware or ziplock bags so that a whole big bag lasts you through the week. This portion control tip will help you avoid eating the whole big bag in one go (not very hard to do!), saving you both money and calories!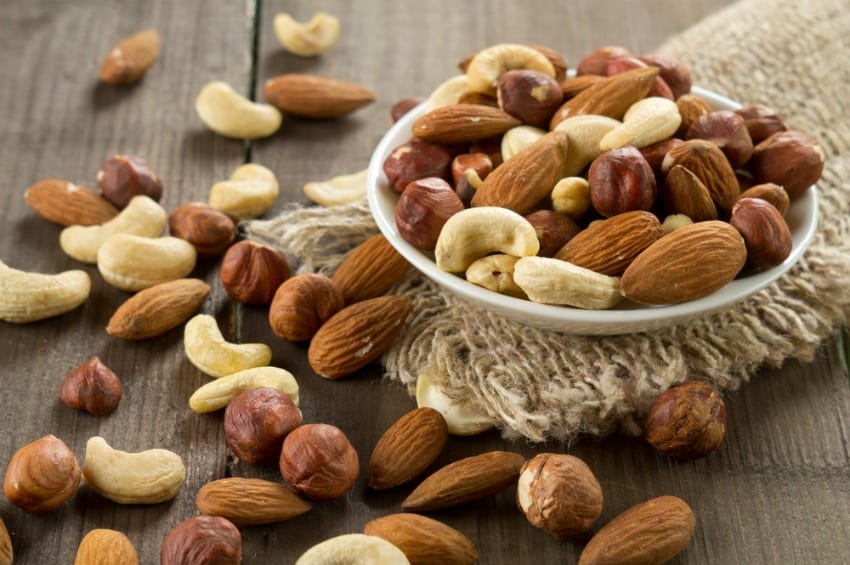 Related: We Ask Chefs For Their Favourite £5 Meals To Feed The Whole Family
Another tip is to buy frozen fruit and vegetables, such frozen berries, peas, sweetcorn and spinach, which are just as nutritious and far cheaper. There's also no wastage with things going off in your fridge if you don't have a chance to use them!
Buy in bulk – rice, pulses and spices often come in big bags that are much better value for money. Head to bigger supermarkets for more choice and cheaper options.
Eat slowly to make every meal and snack count, and give your brain and body the time to register its satiety signals. This will prevent unnecessary overeating – helping you save money AND lose weight!
And lastly, drink plenty of water (tap water is perfectly fine!) to help you fill up and improve digestion.
Here are a few of my super-saver meal and snack suggestions:
Breakfast:
Scrambled Eggs on Toast
Spray a pan with oil and heat. Beat two eggs and cook until set, stirring constantly. Serve on 1-2 slices of whole-grain toast with some freshly sliced tomato.
Cinnamon Porridge
Cook 50g porridge oats in 1 cup of milk, until liquid has absorbed and porridge is cooked and thick. Serve with a drizzle of honey, a small handful of chopped nuts or seeds and a sprinkle of cinnamon.
Peanut Butter on Toast
Spread one slice of wholemeal toast with 1 Tablespoon of peanut butter and a drizzle of honey. Serve with fresh fruit such as an apple or pear.
Yoghurt with Berries and Seeds
One pot low-fat natural yoghurt (150g)
Served with: ½ cup mixed berries + 1 Tablespoon pumpkin/ sunflower seeds
Drizzle of honey (1 tsp.) + cinnamon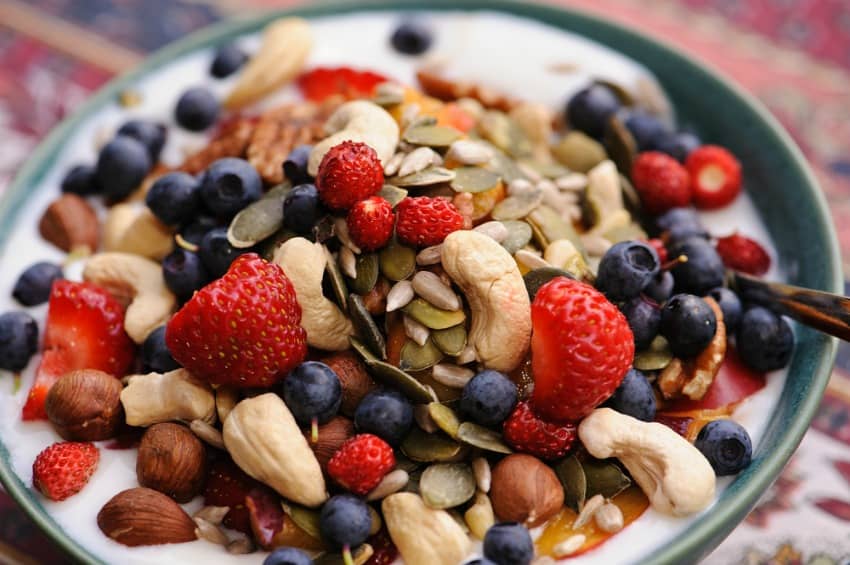 Lunch:
Cottage Cheese Salad
½ cup (~120g) low-fat cottage cheese
Mixed salad or vegetables (lettuce or spinach leaves, tomatoes, cucumber, grated carrot, red or yellow pepper) – seasoned with balsamic vinegar or lemon juice, salt, pepper
3 Ryvita crackers OR Brown Rice Cakes OR 1 slice whole-grain toast
Tuna & Sweetcorn Salad
½ regular size tin of tuna (in water/ brine) mixed with 1 Tablespoon low-fat mayonnaise
One small tin of sweet corn
Mixed salad or vegetables (lettuce or spinach leaves, cucumber, tomatoes, grated carrot, red or yellow pepper) – tossed with balsamic vinegar or lemon juice, salt, pepper
Soup and a Roll
Make your very own healthy soup (such as Carrot or Red Lentil Soup – Recipes can be found on the blog section at www.thefoodeffect.co.uk ) and serve with a small wholemeal roll and a green side salad.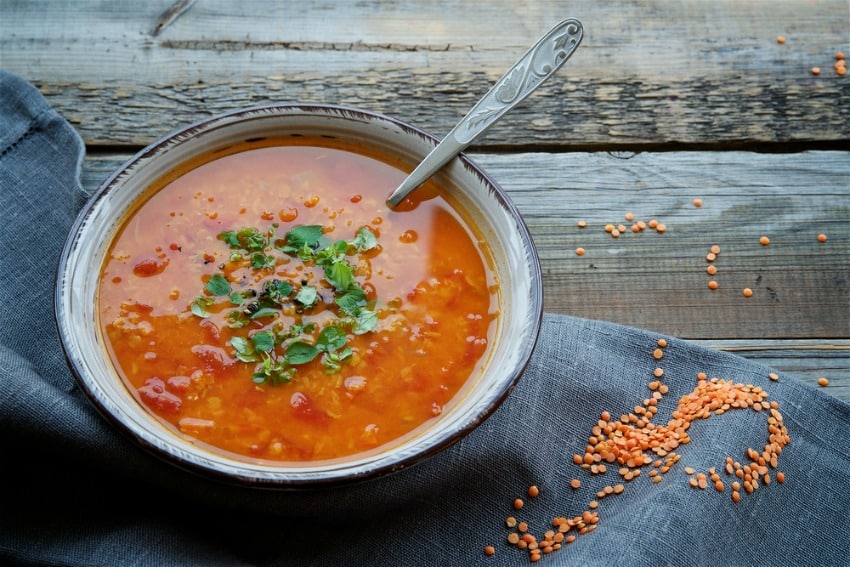 Mackerel Salad
One tin of mackerel in tomato sauce
Mixed salad/ spinach leaves
½ red pepper sliced, chopped cucumber + 1 chopped tomato.
Seasoned with lemon juice, salt, pepper
Read more: From Bugs To Seaweed: Six Low-Cost 2017 Superfood Trends You Need To Know About
Supper:
Vegetarian Roast Dinner
One vegetarian burger (e.g. Fry's brand)
Roasted vegetables (e.g. courgettes, mushrooms, red peppers, red onions) cooked with olive oil or spray oil – seasoned with herbs, garlic powder, salt, pepper.
One small baked sweet potato (200g)
Pasta with Cottage Cheese
Whole-wheat pasta (70g uncooked)
½ cup low-fat cottage cheese
1 cup ready-made (jarred) tomato "Marinara" pasta sauce
Serve on top of large bowl of fresh spinach leaves OR steamed green beans or broccoli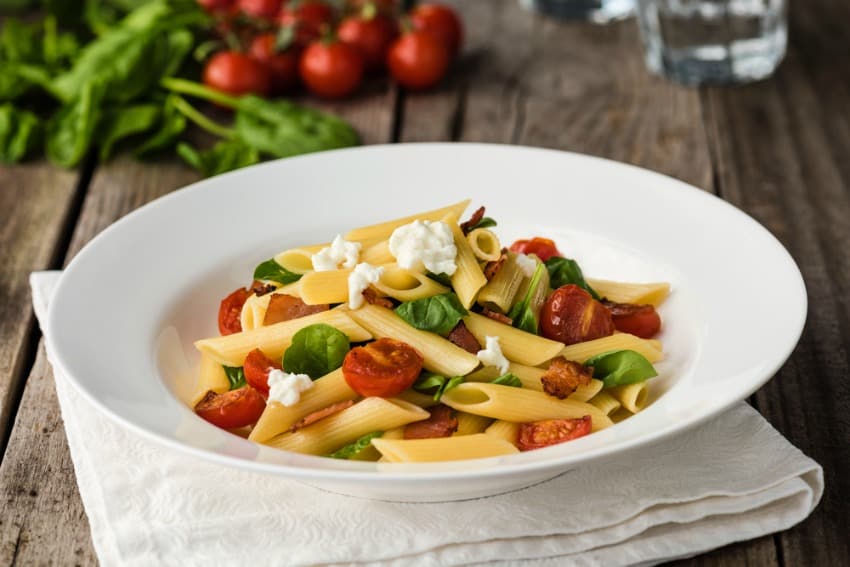 Baked Sweet Potato with Tuna & Salad
Medium size baked sweet potato (200g)
½ tin tuna (in water/ brine) + 1 Tbsp. low-fat mayonnaise
Mixed green salad + diced tomato wedges (salt & pepper) – drizzled with balsamic vinegar
Chicken Dinner
1 Grilled chicken breast (150g) OR cooked/ roasted chicken thigh – NO SKIN
Steamed/ Roasted green beans/ broccoli/ cauliflower/ asparagus (season with garlic powder, herbs, salt, pepper) – unlimited
½ cup (cooked) brown rice OR ½ baked sweet potato
Snacks:
One large fresh fruit (e.g. apple or pear) + 2 Ryvita or oatcakes
1 large apple + 1 Tbsp. (15g) peanut butter
Two sticks of celery topped with 4 Tbsp. low-fat cottage cheese
One apple or pear + 1 handful (~12) raw almonds
1 mini-box (14g) raisins + 1 handful (~12) raw almonds/ cashew nuts
Small bunch red grapes (50g) + 12 almonds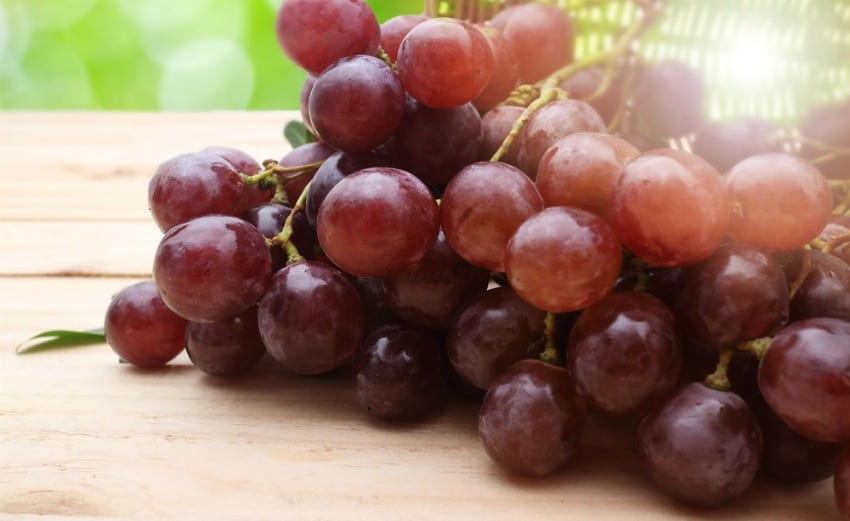 2 tangerines/ plums + 1 handful (~12) raw almonds/ cashew nuts
Four dried apricots + 1 handful raw peanuts
One handful of raisins and pumpkin seeds
Pre-cut carrot sticks + 2 Tbsp. reduced-fat hummus
Two oatcakes with 2 Tablespoons low-fat cottage cheese + sliced tomato
2 brown rice cakes/ oatcakes + 1 Tbsp. (15g) peanut butter
2 cups low-fat (salted) popcorn
30g dark chocolate (anything 70% or above)
By: Dr Michelle Braude, founder of The Food Effect, www.thefoodeffect.co.uk
Twitter and Instagram:  @thefoodeffectdr
https://www.instagram.com/thefoodeffectdr/
https://twitter.com/thefoodeffectdr
Facebook (The Food Effect Page):  https://www.facebook.com/foodeffect