Selling your second-hand stuff online can feel like a bit of a minefield. With so many different sites to choose from, how do you pick the right one?
Looking at the items that sell best on each platform, seller fees and general usability, here are the best places for selling your second-hand items online.
Clothing
If you're planning on selling good quality clothes regularly and want to do it from the palm of your hand, Depop is probably the best bet for you. This app is free to download and free to list on, but Depop will take 10% of the total transaction amount (including shipping) once you sell your item. You will also be charged a PayPal transaction fee of 3.4% + £0.20.
Depop looks and feels very similar to Instagram. You can follow your favourite sellers, comment and like their products. So, if you're savvy with your images and respond quickly, you could easily build yourself a mini business. You can also message users who like your products and offer a multi-buy discount, so it's a lot easier to interact with your customers than other selling sites.
Women and men's clothes sell best on the app. Also, designer or branded clothing and accessories get snapped up. The key is presenting clear, attractive images with good descriptions.
For second-hand kids clothing, eBay is the place to sell. Baby clothing bundles sell particularly well, with sellers grouping clothes into age, style and even brand. For more expensive or designer items in good condition, consider selling them separately, as you can often fetch competitive prices.
You can list up to 20 items a month for free, with each further one costing £0.35. The same commission and shipping fees apply as Depop. However, eBay gives the option to set a bid amount rather than a static amount. This means you could end up making more than you imagined on your items. There are extra things you can pay to add to your listings such as a 'Buy it now' price (50p), subtitle (£1) and listing in 2 categories (35p). Find the full list of eBay fees here.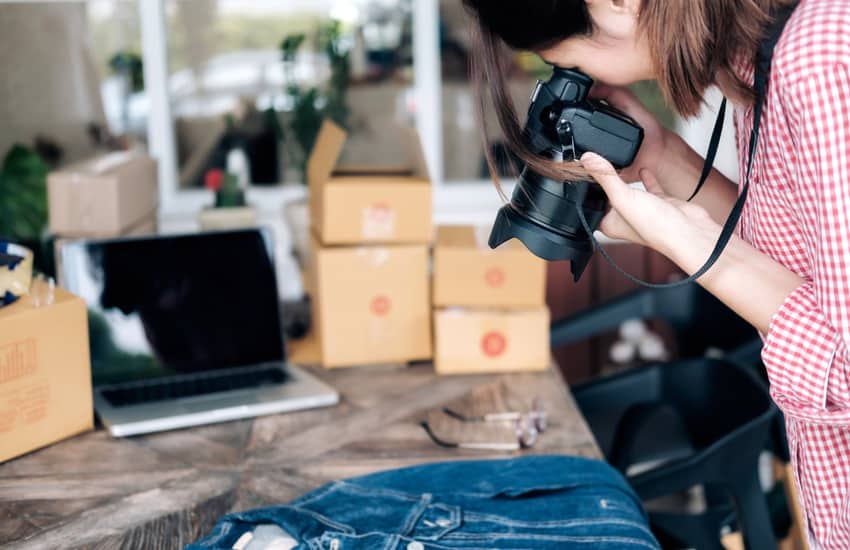 Books
If you have lots of bestsellers taking up valuable shelf space, you may be best off selling them in bulk to WeBuyBooks.co.uk.
The process is simple but could be time-consuming. You enter the barcodes of your books into the site and are given an instant quote on each item. Alternatively, you can use their app to scan barcodes to save time. For common books expect boot-sale prices of less than 50p. More specialist books can fetch a few pounds which add up quickly. Next, print off the postage label, box up your books and post them using the site's free courier service. Once they've received the items, you'll be paid the next day.
The site has a Feefo Gold Trusted Merchant award, meaning they consistently receive an average service rating of 95-100%.
If you have specialist books such as textbooks or rare books of good quality, where better to sell them than the original online bookstore, Amazon? Their Marketplace offers users the ability to sell used books while appearing on Amazon listings, reaching millions of potential customers.
There are two memberships to choose from depending on how much you choose to sell. The Basic package has no monthly subscription fee, but you'll be charged £0.75 for each item you sell plus a per-item fee and closing fee. The Pro account costs £25 a month and is suited for those selling more than 35 items monthly. On top of this fee, there's also a referral fee and a closing fee per item. For more information on Amazon seller fees, see here.
Read more: How to Make Money From Your Unwanted Household Items
CDs/DVDs
Unless you have a special CD or DVD such as a signed copy, they lose their value quite quickly. For this reason, it's best to use a buying service to send your unwanted CDs and DVDs away. The obvious choice is Music Magpie, which specialises in buying your unwanted CDs, DVDs and Games. However, after some testing, we found that WeBuyBooks.co.uk give better values for all these items!
The process for both sites works in the same way except Music Magpie pay slightly quicker – on the day they receive your goods. We still think it's worth waiting that extra day for the extra cash you'll get, though. Plus, if you've already earmarked a load of books to sell, you can send them off in the same box. Easy peasy!
Furniture
Most people would recoil at the thought of tipping a perfectly good chest of drawers, and rightly so! There's money to be made where furniture is concerned. But, getting rid of furniture that no longer suits your home can be a chore, even if it's in good condition.
On sites like Gumtree and Preloved, you can list your items for free and don't have to pay any selling fees. You can also specify that the item is pick up only and set the price with 'or nearest offer' to entice more buyers.
Both sites do the same thing, so it comes down to personal preference when choosing which site to list on. It's worth researching related items in your area, how much they are listed for and what you're up against! If there are lots of similar items selling in your area on one of the sites but not on the other, it might be worth choosing the one with less competition.
Be sure to use clear pictures, a fuss-free but detailed description and mention any imperfections, so you don't end up with a disappointed customer at your door.
Read more: How To Spot A Priceless Item In A Charity Shop
Boot-sale-stuff
If you need to sell a few things from around the house which doesn't warrant using any of the outlets previously mentioned, Facebook Marketplace is a useful option. Here you can list your items for free and arrange a drop-off/pick up of your items. Expect cash payments for your items as this is just a platform to advertise your goods.
Using the marketplace is a quick and straightforward way to sell your second-hand stuff. You probably won't make huge profits, but just think of it as a car boot sale where you don't even have to leave the house!
Enjoyed reading about the best places to sell your second-hand stuff online? Visit our Life Hacks section for more savvy tips.